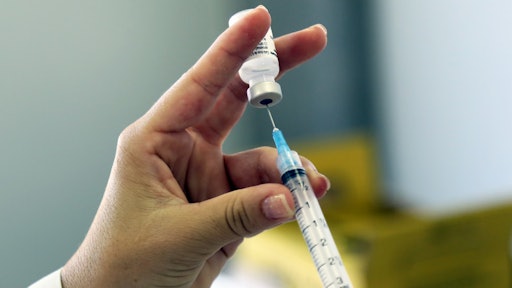 Financial Times reports that drug safety scandals are exposing underlined risks to international consumers by weak oversight in China. The country is the largest supplier of active pharmaceutical ingredients, and its manufacturers make up 40 percent of the global production of such ingredients.
Last month, a recall of blood pressure medication supplied by Zhejiang Huahai was issued after alerts of a cancer-causing ingredient was found. Beijing then confirmed that hundreds of thousands of substandard vaccine doses were sold in the country, causing senior executives to be arrested. The company, Changsheng Biotech sold the drugs and were accused by authorities of forging data during the production of rabies vaccines, Financial Times reports.
China houses thousands of API producers, and had exports worth $29 billion last year. Producers supply ingredients for generic drugmakers and companies like Johnson & Johnson and Novartis. According to Financial Times, 80 percent of APIs used in the US come from China and India.
Companies that import Chinese APIs are supposed to carry out their own tests and report irregularities to the FDA and EMA, who then can inspect producers and impose import bans if needed. However, tests aren't done as frequently as hoped due to insufficient staff. The FDA has sent 22 warnings to Chinese pharmaceutical manufacturers last year, a prelude to being placed on an import blacklist. Warnings are feared by manufacturers and are seen as a killer in the industry.
Financial Times reports that 11 warnings have been issued to Chinese manufacturers this year, and the EMA has issued six complains. However, oversight of overseas agencies still lacks because of short staff in China. The FDA reportedly has 22 employees in the country that oversee 700 facilities that supply the US, which is starting to worry congress.
The EMA claims that EU national authorities conduct up to 40 inspections of Chinese API manufacturers every year, with 10 percent resulting in non-compliance. Dozens have reportedly violated standards in recent years relating to troubles in record-keeping during the manufacturing process. According to the Financial Times, exporters shipped large volumes of product before infractions were discovered in several cases.
Cost-cutting in the drug industry is the main reason why there are lowered standards, but China is trying to improve matters. Financial Times reports that inspections are becoming more regular and professional.
The country's recent scandals can be a major setback for its pharma industry. However, it also gives it a chance for the government to use the crisis as an opportunity to reform.
To read the full original article, please click here.