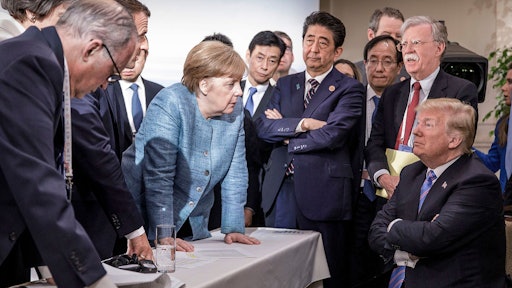 Donald Trump tweeted that the US won't endorse the final communique of the Group of Seven industrial nations summit and threatened to impose auto tariffs, the Wall Street Journal reports.
Based on Justin's false statements at his news conference, and the fact that Canada is charging massive Tariffs to our U.S. farmers, workers and companies, I have instructed our U.S. Reps not to endorse the Communique as we look at Tariffs on automobiles flooding the U.S. Market!

— Donald J. Trump (@realDonaldTrump) June 9, 2018
According to the Wall Street Journal, Trump's refusal threw the final hours of what was supposed to be a positive summit into disarray and raised the question of a pending trade battle between the country's strongest allies.
Trump then tweeted to his 52.6 million followers that Canadian Prime Minister had acted "meek" in the meetings. His refusal to endorse the communique came just hours after White House representatives told reporters that he had joined it.
PM Justin Trudeau of Canada acted so meek and mild during our @G7 meetings only to give a news conference after I left saying that, "US Tariffs were kind of insulting" and he "will not be pushed around." Very dishonest & weak. Our Tariffs are in response to his of 270% on dairy!

— Donald J. Trump (@realDonaldTrump) June 9, 2018
Trump's comments marks the first time in G-7 history that there was no unanimity on a communique, the Wall Street Journal reports. However, Trump did not specify which part he objected to.
Shortly after the president left Canada, Trudeau announced that all seven countries had endorsed the communique, which states that leaders share a commitment to promoting a "rules-based international order." The communique said that nations would "strive to reduce tariff barriers, nontariff barriers and subsidies."
According to the Wall Street Journal, Trudeau said that members had conversations regarding the American tariffs and that he warned Trump that Canada "will not be pushed around" and will move forward with retaliatory tariffs "without flinching."
Trump alleges that the US tariffs on steel and aluminum were a response to Canada's tariffs on dairy. When the Trump administration initially announced the steeping tariffs, they cited Section 232 of the Trade Expansion Act that claims that the country can impose tariffs on imports that can potentially harm the country's national security.
According to the Wall Street Journal, the Trump administration had began considering tariffs on imported vehicles and auto parts last month. When asked how he could justify auto tariffs as a national-security concern he responded, "It's very easy. It's economic. It's the balance sheet. To have a great military, you need a great balance sheet."
Before leaving the summit, Trump allegedly said that the G-7 should become a "tariff-free" zone and warned that other countries must change their own trade policies and to stop using the US as a "piggy bank everyone is robbing," the Wall Street Journal reports. However, the G-7 has never been tariff-free. Members have been trading among each other under various agreements.
G-7 members did have differences before Trump decided not to endorse the communique, though. All G-7 members except the US agreed to promote the fight against climate change, with a separate paragraph indicating the US "believes sustainable economic growth and development depends on universal access to affordable and reliable energy resources," the Wall Street Journal reports.
To read the full original article, please click here.