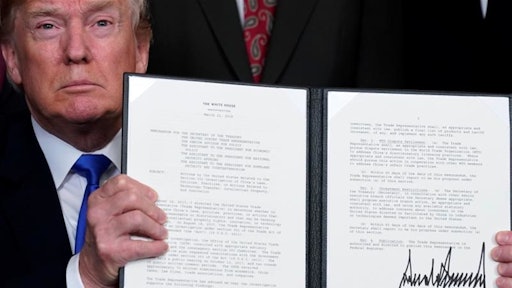 The Trump administration is preparing to impose stiff tariffs on Chinese imports to reduce the U.S. trade deficit with China by $50 billion. President Trump is calling for new limits on Chinese investment in U.S. technology in an effort to protect America's "economic seed corn."
The Chinese government responded with a list of retaliatory tariffs that would impose $3 billion dollars worth of U.S. exports.
Trump signed a temporary exemption from higher steel tariffs on six countries and the European Union until May 1. Argentina, Australia, Brazil, South Korea, Canada and Mexico will get the temporary exemption.
The tariffs on China are a response to complains that Beijing requires U.S. companies to share their technology as a cost of doing business in that country.
The $50 billion figure is an estimate of what forced technology transfer by China has cost the U.S. economy. Trump suggested that the value of the tariffs could go as high as $60 billion.
Trump signed a presidential memorandum directing his trade representative to draw up a long list of Chinese products to which the tariffs would be applied.
Business leaders have urged Trump to take different measures and believe that the tariffs could backfire.
The United States had a 9 percent larger trade deficit with China last year, ranking up $337 billion.
The proposed tariffs on imports from China follow the decision to impose tariffs on imported steel and aluminum, which go into place on Friday.
To read the full original article, please click here.