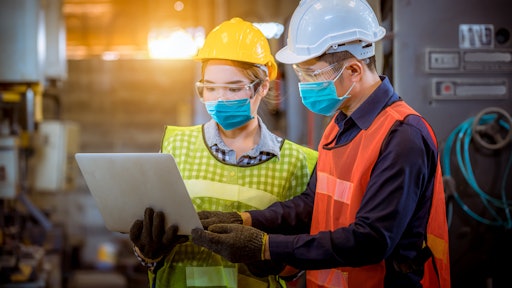 APchanel AdobeStock_337266886
Despite a red-hot labor market, supply chain positions are still in high demand – with very few applicants to fill these roles that are constantly opening.
To help organizations identify where attrition may be stemming from, here are the top turnover drivers from hourly supply chain employees at leading brands for a better approach to industry-wide attrition trends.
Pay: How important is it?
Most big-box companies recognized only one solution to reduce turnover: better pay. As a result, compensation costs have risen at an alarming rate. With higher wages, many businesses expected that turnover would decline, but most were proven wrong. Despite bigger paychecks in the last two years, turnover continues to rise.
That's why it's no surprise that according to recent turnover data, pay didn't even make the Top 3 reasons employees quit in Q3 of 2022. Pay ranked No. 4 – meaning it's important, but not the deciding factor when accepting a role or leaving one. Every company should constantly revise their salary schedule to remain competitive, but fair pay alone will not stop the revolving door. So, what should employers prioritize? The answer is opportunity for growth.
Career growth: The non-negotiable
For over a year now, lack of career growth has remained the No. 1 reason hourly workers are leaving their current roles.
Just like salaried workers, hourly employees want to advance in their careers. If a current warehouse worker believes they have better access to professional development at another company, what's to stop them from leaving? To avoid a situation like this, it's important to listen to the workforce to see what types of training they are looking for. On a more granular level, managers should be meeting with their workforce 1:1 to create an individualized career growth path leveraging community feedback to guide the conversation.
On top of this, it's crucial for leaders to effectively communicate what opportunities are already available. So often we see employees leave because of a "better" opportunity elsewhere without knowing a similar role already existed at their current place of work. But the sad reality is, most managers don't know their employees are wondering and it's because they simply don't ask.
Enabling feedback: Stop the revolving door
Instead of playing darts blindfolded to pinpoint turnover drivers, management teams need to prioritize employee engagement. And to clarify, engagement does not mean waving hello on the warehouse floor. True engagement starts with collecting feedback and ends with driving action.
On average, 41% of management teams never ask employees for feedback. For workers who do get the opportunity, 70% feel their voices aren't being heard. Recent turnover data shows that sentiment remains true. This quarter, feedback ranked No. 3 on the turnover drivers list, meaning that the lack of opportunity to provide feedback is the third most common reason supply chain employees are leaving their current roles.
It's also important to note that all feedback is not created equal. Many companies send out an annual survey and check "collect feedback" off their list. That's simply not enough. The winning combination is rolling out anonymous surveys via easy-to-use apps at key milestones in the employee lifecycle along with real-time surveys to keep a constant pulse on employee sentiment. From there, leaders turn this feedback into actionable insights to cultivate a work environment that everyone has a say in.
Feedback makes workers feel seen, appreciated and heard. On top of lifting team morale, it also gives management visibility into where dissatisfaction is coming from. With this insight at their fingertips, leaders can focus their time on implementing solutions (like creating clear paths for career progression) instead of wasting resources on the never-ending turnover guessing game (by just raising pay).
Job expectations and onboarding: Transparency is key
Up slightly from last quarter, job expectations now hold the No. 2 spot on the most recent turnover driver list. Workers want full visibility into what will be expected from them in their new role before signing any papers. Unfortunately, a huge factor in high turnover is a disconnect from what a candidate is told they will be doing on the job vs. what they are actually required to do once the role begins.
Plus, successful engagement strategies start on day one of the employee journey. In the hourly supply chain workforce, employees are most susceptible to leaving their roles during the first 30 days of employment. Because of this, a thorough onboarding process is crucial to address concerns like job expectation discrepancies and solve them before they turn into bigger issues.
Over the past quarter, onboarding climbed in importance from No. 8 in Q2 to No. 5 in Q3. After the pandemic, employees have come to expect a robust and comprehensive training period with constant check-ins at key milestones. With access to anonymous surveys 24/7, hourly workers are equipped with the tools they need to share the highs and lows of the onboarding process, as well as relay any worries surrounding their new role. This not only ensures that the employee is getting the most out of the process, but it also gives leaders the chance to set the foundation for manager-new hire relationships, mentorships with fellow employees, company culture and more.
After the onboarding period is finished, feedback needs to remain a constant in the employee journey – with managers prioritizing closed loop feedback by actively addressing concerns through communication and action.
Workforce attrition trends: The big picture
It's important to keep a pulse on industry wide turnover trends, but every company, department and location is different. It's crucial to stay on top of what's contributing to your own attrition.
Companies that place feedback and communication at the center of their culture significantly increase the quality of candidates they receive. With better fit talent, organizations see better retention which means higher productivity, less safety incidents and an exceptional pipeline for leadership positions.
Every company leader can better engage with their workforce on a daily basis. It's a simple yet effective process: listen to employees, react to their feedback and continue adapting to ensure the work environment reflects the ideas of everyone involved, not just leadership.