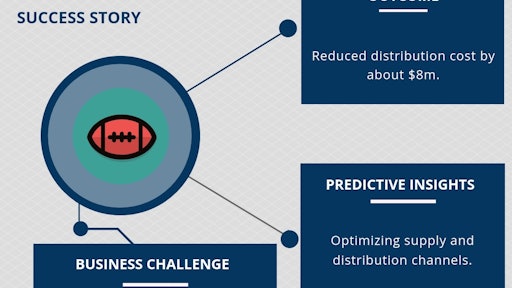 Quantzig
Quantzig has announced its completion of its latest supply chain analytics engagement for an international sports good retailer. During the course of this engagement, the company's supply chain analytics experts adopted a comprehensive three-phased approach to help the client tackle their challenges. As a result, the client witnessed drastic improvements throughout their supply chain operations including enhancement in supply chain flexibility and a reduction in distribution costs.
Exponential data growth is one among the major challenges faced by players across industries. If unattended, these data volumes can not only curtail the organization's data management capability, but also act as a barrier to innovation. To extract meaningful insights from the supply chain data businesses will have to develop better supply chain strategies by leveraging supply chain analytics.
By improving the sports brand's supply chain management strategy, it was able to look at driving double-digit improvements in stock out and mark down percentages. The sports goods retailer collaborated with Quantzig to leverage its supply chain analytics expertise in bringing about a major organizational improvement.
Quantzig adopted a three-phased approach to extract the desired insights for this engagement, with the initial phase revolving around a detailed risk assessment that focused on identifying supply chain risks by analyzing supply chain data by vendor, region and across all product hierarchies. The second phase focused on the development of precise dashboards to monitor supply chain performance and enhance visibility.
Quantzig's supply chain analytics solutions helped the client to:
Preempt overstock and understock situations
Reduce distribution cost by about $8 million
Quantzig's supply chain analytics solutions offered predictive insights on:
Optimizing supply and distribution channels
Leveraging analytics to draw insights from supply chain data