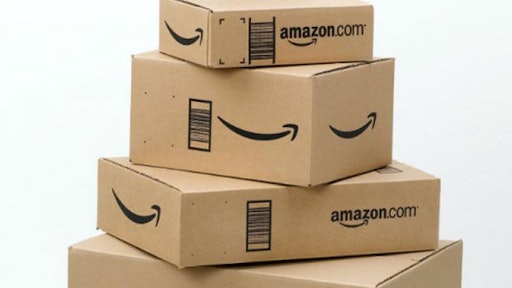 Amazon has notoriously prevented its workers from unionizing, but that's not stopping workers at its new Staten Island fulfillment center from trying. 
On Wednesday, a group of Staten Island employees announced its plan to unionize will fellow organizers from the Retail, Wholesale and Department Store Union. The union is also working with employees at Whole Foods as well.
According to Vox, the unions are forming under a simple proposal: If the city and state are giving the company a $3 billion tax break to build a regional headquarters nearby, then the company should use some of that money to pay warehouse workers higher wages and improve working conditions. Organizers believe that a negotiated labor contract is the only way to get the company to do so. 
If successful, the State Island workers will be the first Amazon employees to unionize.
At a press conference outside New York City Hall, employees alleged that the company force employees to work 12-hour shifts five or six days in a row, detailing how they feel unsafe at work because smoke detectors and sprinkler systems are reportedly broken. Adding to that, employees are feeling less valued compared to the robots that are in the warehouse, saying that Amazon can't provide air conditioning because the bots cannot work in cold weather. 
"Amazon maintains an open-door policy that encourages employees to bring their comments, questions and concerns directly to their management team for discussion and resolution," a spokesperson for Amazon said in a statement to Vox. "We firmly believe this direct connection is the most effective way to understand and respond to the needs of our workforce."
Amazon has addressed the comments made at the press conference, saying that the State Island warehouse has a fire director on site to make sure the sprinkler system and smoke detectors are working as required by law. Additionally, employees are not allowed to work more than 60 week and that warehouse temperatures are regularly monitored to make sure they remain around 73 degrees Fahrenheit. 
Vox reports that the move to unionize comes at a tense time for Amazon as it currently faces criticism for its decision to open its new headquarters in New York City and a suburb of Washington D.C.The drive for unions in New York will only intensify ongoing labor disputes that the company is currently undergoing. 
The Staten Island workers believe that the only way to get the company to change its culture is to form a union as talking with managers has not worked so far. 
However, the employees need to take more steps before they can officially forma union, Vox reports. Employees will need to sign union membership cards in order to show their support for collective bargaining, allowing Amazon to voluntarily recognize the union. However, if the e-commerce giant doesn't do that, workers will have to hold an official unionization vote through the National Labor Relations Board. Vox reports that if a majority of employees vote in favor of unionizing, then Amazon is legally required to recognize the union.