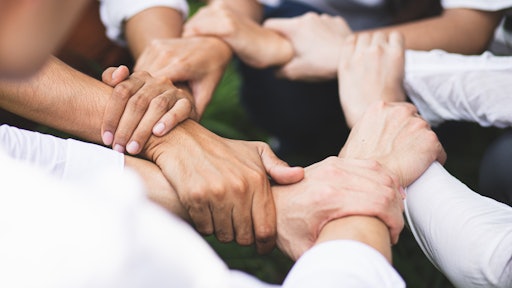 Shutter B/stock.adobe.com
When I joined Transfix five years ago, I was inspired not only by the company's dedication to diversity, but also by its drive to create positive change– for its employees, communities, and the supply chain at large.
Our company is headquartered in New York City, and we consciously chose to use the community around us as an example of multicultural "melting pot" diversity. Over and over, we have reaffirmed our mission to attract talent from all backgrounds and experiences. We decided that our people would drive change in the supply chain– the kind of change that would contribute to innovation. Change that would achieve results in efficiency and effectiveness, and spread to all corners of our industry.
But to achieve this level of transformation, every organization, executive, and employee must participate. Building a diverse company and industry requires top-down support, including forward-thinking executives who understand that DEIJ (an abbreviation for "Diversity, Equity, Inclusion, and Justice") is a necessary part of everyday operations. In fact, a 2022 Gartner study found that the number one factor in favorable DEIJ outcomes is having a leadership team equipped to think and act more inclusively.
So, how can companies do their part to spur the widespread transformation of an industry? At Transfix, we believe in the framework of the three i's: Inclusivity, Internal Culture, and Impact
Inclusivity: Prioritize diversity within our hiring practices
Every recruiter is used to hearing me say: to change the industry, we need to grow the company. This means our recruiting efforts are critical to both Transfix's DEIJ initiatives and to the larger industry makeup. The same holds true for other companies in the supply chain.
Let's move away from the assumption that all potential talent hangs out on LinkedIn; that just isn't accurate. We strive to meet talent where they are, and that means thinking creatively.
One of the best places to find talent is within our individual team members' networks. Our team is encouraged - and incentivized - to refer peers they've either worked with before or know personally. As a consequence of the pandemic, we've opened our hiring pool to the entire country and have seen our network grow exponentially.
Fostering a trusting, safe environment for everyone from their first point of contact with our company is an absolute must. With that goal in mind, we've optimized the candidate experience by including features like name pronunciation and pronouns, so that we can respect each person's identity.
Lastly, company benefits tell a candidate what we value. We offer benefits that appeal to a broad group of candidates, including gender-neutral parental leave and mental wellness resources. We are also implementing a donation matching platform to help employees direct support towards qualified charities of their choosing. Together, these things signal a flexible, socially-conscious culture and give us a leg up in the talent wars.
Internal Culture: Foster a supportive, integrated environment
After bringing talent into the organization, we work to make sure they feel safe, supported, and heard. And we hold ourselves to that promise. We take a learning-focused approach that functions in two ways: company feedback to the employee, and vice versa. We provide training and support to facilitate high-quality feedback loops, performance discussions, interview techniques, and career conversations. Every manager is required to complete unconscious bias training, which is at the core of all these interactions. We gather feedback from employees via regular town hall meetings, fireside chats with executives, and employee engagement surveys. We perform regular compensation audits to root out any biases from compensation decisions. We make sure that when an employee takes the time to provide us with feedback, we ingest, process, learn, and take action.
We've also placed an increased importance on investing in our Employee Resource Groups (ERGs). These self-directed organizations provide employees, especially those from historically marginalized or oppressed groups, a community where they can meet and discuss their shared experiences. We fund events of their choice such as happy hours, sessions with invited speakers, and even trivia nights.
By empowering our ERGs to curate programming, we've seen some incredible movement. Groups have planned "safe space" discussions to address issues affecting their respective communities, and members come out of these meetings feeling connected and supported.
We don't prescribe any one approach, but we do ask that at least one of these events be open to the entire company. We then encourage all employees and executives to attend so they can better understand their peers and walk away having learned something from that ERG. Fostering an inclusive culture only works when listening is a primary learning tool.
Impact: Communicate– and act on– our purpose
We recognized a major stumbling block early on: potential candidates didn't understand our purpose. This was especially true a few years ago, when the supply chain wasn't as top-of-mind as it is now. That was a problem.
In a recent study of Gen Z's and Millennials, Deloitte found that an organization's purpose is critical to talent recruitment and retention. Nearly two out of five of respondents have turned down a role or assignment because it wasn't in alignment with their personal ethics. On the other hand, respondents who are satisfied with their employers' efforts regarding diversity, inclusivity, and societal impact are more likely to stay with their employer for more than five years.
We've worked diligently over the years to project our purpose like a lighthouse. We are focused on connecting shippers and carriers intelligently, sustainably, and at scale. It's infused across our conversations— in recruiting and social media, at employee events and town halls, with customers and the investor community, and beyond. Transfix's first-ever ESG report went into detail about our sustainability and diversity approach and has helped convey our goals to our stakeholders.
We've also found ways to amplify our purpose with external partners. We work to build strong relationships with organizations like Truckers Against Trafficking, Real Women in Trucking, National Minority Women Association in Transportation, and LGBT Truckers (to name a few). These partnerships help us better serve the communities we work in, empower historically marginalized voices, and strengthen the industry as a whole.
If the supply chain doesn't prioritize diversity, inclusion, and equitability, it will inevitably grow weaker over time and, in practical terms, it will break. And– as we learned over the last few quarters– when the supply chain breaks, everyone feels the fallout.
Our ESG report highlights the progress we've made over the past year, but it's critical to understand that this must be an ongoing practice rather than a series of one-time tasks. It requires humility about what you are doing well, and where you are falling short, and having the courage and conviction to act. Infusing DEIJ values into the very DNA of a company is a life-long commitment. And it's a commitment that is well worth it over the short term and the long haul.