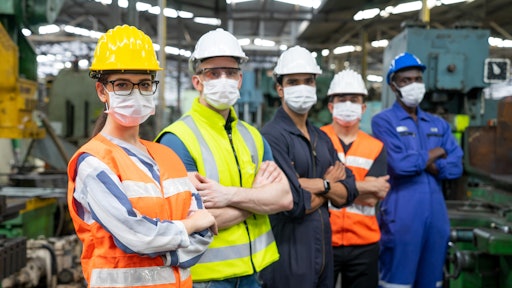 godji10/stock.adobe.com
Worker compensation costs spiked 4% during Q4 of 2021– the highest increase in 20 years. With wages forecasted to climb another 0.5% in February alone, supply chain employers are caught in an endless cycle of boosting pay to compete in today's tight labor market.
But do bigger paychecks actually help brands retain hourly workers? According to new data, the answer is not entirely – and it's impacting the bottom line. In order to drive real retention improvements, organizations must rethink their strategy on the frontlines.
Can more money buy employee happiness?
The world is experiencing a historic workforce shortage – and frontline supply chain roles are getting hit hard. According to the U.S. Bureau of Labor Statistics, the manufacturing industry was down 400,000 employees from its pre-pandemic levels.
Major companies like Amazon are raising wages, offering sign-on bonuses, and promoting other incentives to combat the issue. Last October, Amazon offered record bonuses in an effort to hire 150,000 seasonal workers ahead of the holiday season. Despite the attempt, Amazon's average warehouse worker still leaves within just eight months. One source claims the turnover rate is as high as 150% in some groups.
With the spike in wages and bonuses, the cost of turnover is tripling. Ineffective job boards and expensive temp agencies make it worse. In fact, between Q3 of 2020 and Q2 of 2021, the cost of hiring one CDL driver through a job board increased by 133%. Overall, replacing an employee in the supply chain is costing businesses anywhere from $5,000 to $45,000. If that employee leaves within eight months, that's time and money down the drain. Rising hiring costs are becoming unaffordable for even the biggest businesses.
What frontline workers really want: opportunity
2021 Q4 data from over 18,000 supply chain workers shows pay isn't even the top reason for turnover. There is much more to the equation.
The top five turnover drivers are:
Limited career growth: Little opportunity for promotion, skill advancement or career progression.
Pay: Competing companies continue to offer high wages and sign-on bonuses. What would encourage a worker to stay if they could make more for the same job elsewhere?
Job expectations: Workers find the job listings do not match the actual day-to-day or their skillset.
Poor onboarding: Training procedures are rushed, leaving workers feeling underprepared.
Limited coaching: No access to mentorship from management to improve.
This feedback makes sense. Frontline positions are infamous for tedious work, limited opportunity for growth or feedback, and virtually no connection to upper level management. Yet leading brands continue to slap band-aid solutions on hiring that only work in the short term. The key issue is that frontline workers are looking for more than a clock-in, clock-out job. They want a career – but management isn't listening.
Understanding real pain points to drive strategy
Businesses like Amazon and Walmart are making assumptions about what hourly workers want in their jobs. But this is an expensive assumption to make – especially when the true underlying drivers of turnover can be uncovered quickly and easily.
The first step is to actively listen to and understand worker feedback. Supply chain workplaces, however, are fast-paced and busy. Oftentimes, management doesn't have time to check-in with employees, provide helpful feedback, create roadmaps for career progression and more. Teams are big, decentralized and ever-changing. But this level of personalized, engaged leadership is possible. Technology is here to help.
Leading companies are leveraging workforce retention tech to understand the employee point of view. For example, workers can anonymously provide feedback on their experience and concerns at key moments in their tenure. Employers can use the same platform to analyze this feedback, address any imminent turnover risks, as well as understand the true drivers of turnover among their workforce.
Retention software platforms are proven to resolve up to 36% of turnover issues. The solution can be as simple as listening – not spending millions of dollars on the wrong strategies.
Preventing turnover doesn't have to break the bank
If employee turnover rates continue to resemble a revolving door, hiring efforts will be seemingly endless and remain unsuccessful.
A new approach to retention could save companies millions of dollars and thousands of headaches. By amplifying the voice of the frontline worker, everybody wins. The employee experience improves, turnover decreases, and wasting money becomes a thing of the past.