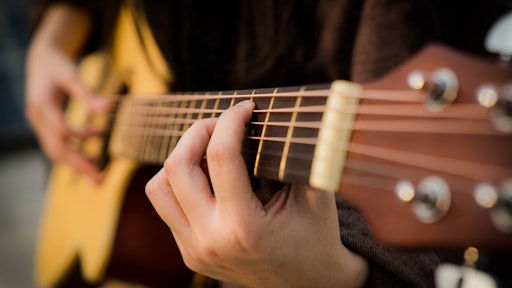 Playing the guitar is hard work. The strings hurt your fingers, your hands begin to form calluses and then there's the whole keeping time aspect. A lot of people give up shortly after trying the guitar, but Joe Albert, vice president of sales for Signode Global Wrapping and Case Handling, proves that sticking with the instrument can be a worthwhile experience.
Albert first picked up the guitar when he was 47 years old after he experienced a "mid-life crisis" and discovered country music on a flight to Brazil.
"I was watching the Academy of Country Music Awards (ACMAs) and saw an acoustic song performed by Eric Church called 'Like Jesus Does.' I knew right then that I wanted to play and sing country music," Albert says. "A month later I got my first acoustic guitar."
Still, learning a new skill takes a lot of practice, desire and persistence, he explains. The guitar helped Albert emerge from a corporate box he felt stuck inside.
"I wanted to see if I could challenge myself to learn to play [guitar] and sing. I was so fascinated by the whole singer-songwriter genre," Albert says. "Like anyone learning guitar, you have to fight through the fingertip pain, making chords that sound nice, strumming, then strumming and changing chords and finally throwing singing into the whole mix. Through each step you have to fight to reprogram your mind and body to work together."
For the most part, Albert says that he is 90% self-taught, crediting lessons from the internet to help him get to his skill level. However, maintenance managers at two of Signode's film plants also played the guitar and would have the instrument waiting for him when he visited.
"We would play late at night or super early in the morning. Both guys taught me ways to cheat and gave me the encouragement to continue," he says. "I think learning on my own gave me the freedom to develop my own style instead of being clinical in my approach."
Still, learning the guitar is an ongoing process—even for the most talented musicians. There are many technical aspects that go into the instrument. Meanwhile, new songs are released frequently that you want to learn. He encourages others to push themselves to learn a new instrument and to not let your age prevent you from doing it.
"You never stop learning. The day you do is the day you stop playing," Albert says. "I never thought I would have learned as much as I have."
In the short time that Albert has been playing, he now has over 100 songs in his repertoire—mostly in the country music genre. Some of his favorites that he has learned include "Those I've Loved," "Sinners Like Me," and Can't Take It With You" all by Church.
Albert even has five guitars now, with one being his "prized possession"—a Gibson Hummingbird, just like the one that Church plays.
The skills that he has learned go hand in hand with his role at Signode, as it helps him problem-solve and approach challenges differently, similar to when he learns a new song.
"In order to play a song that sounds like a song, you have to have each component learned and ready to go before you can properly link it together to make it right," Albert says. "Essentially, it is a process. When making a product, you need to have everything on hand, staged, sequenced and implemented in the right order. If anything is done out of order or time, it becomes a mess. Learning to play has made me a more creative person, and that shows in my work."