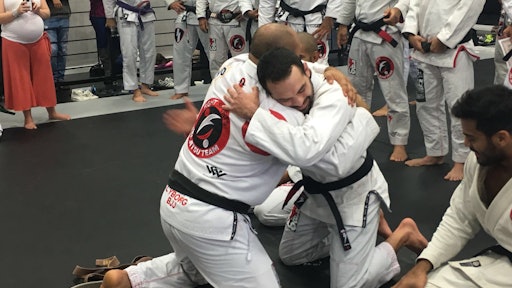 It's all about the adrenaline rush for operations manager and co-founder of Nature Gnaws' Jay Mokbel. Bodies slamming on mats, hands grabbing at your uniform and groans of pain are just a part of Brazilian Jiu Jitsu.
Mokbel was first introduced to the martial art and combat sport when he was in college. Playing sports all his life, he felt like he was lacking a physical outlet while he was in school and wanted to take some side classes.
"I was originally going to take a different class, but the instructor was moving away and suggested a Jiu Jitsu class," Mokbel says. "A 130-pound man beat the crap out of me that day. He choked me out a thousand times and threw me around all day. It didn't bruise my ego—it just made me want to learn."
Brazilian Jiu Jitsu is known for "smaller" or "weaker" individuals successfully defending themselves against a bigger and stronger opponent. With training, competitors can pass through the ranking system, typically earning a new colored belt every two to three years. Mokbel took classes and competed in competitions throughout college, eventually earning his black belt 12 years after he started.
"You have to find some sort of enjoyment in it. You have to look something difficult in the eye and kind of deal with it," Mokbel explains. "If you're only looking to get your belt, you're not going to stick with it. It's a long process, but if you find the enjoyment in it, you'll be able to take a hold of it and carry it with you for the rest of your life."
As Mokbel moved up in his career, training became a second priority. However, he still found time to go to the gym on the weekends, referring to himself as a "weekend warrior."
"If I can't make it to actual training, I'll go and run a bunch of sprints or work out hard so I can do something physical that day," he says.
His work at Nature Gnaws, a manufacturer of dog chews, was never far from his mind at the gym, though. Mokbel explains that the sport reflects on similar problems that he has had while working within the supply chain, mostly wondering how whatever he is doing can be better than it was before.
"Everyone wants the supply chain to go smoothly and everything is mapped out on paper—but when does it ever go smoothly?" Mokbel says. "It's a long series of steps to get from A to B that crosses all sorts of boundaries of the business. At any moment your plans can go wrong, and Jiu Jitsu is the same in a way. You have a plan, but you have to improvise a lot because your best laid plans can go wrong."
Still, earning a black belt is the proudest moment of Mokbel's Jiu Jitsu career. To him, the belt represents 12 years of consistency and self-improvement. He advises those wanting to join the sport to just show up at the gym and take a class. However, it is important to not get so stuck on the belt ranking.
"The belt just holds your gi [your uniform] together. It doesn't give you any powers. It wasn't any better when I went from white to blue belt—and I'm still not any better now that I have a black belt. Every day you have to go in there [the gym] and be better than you were the previous day," Mokbel says.