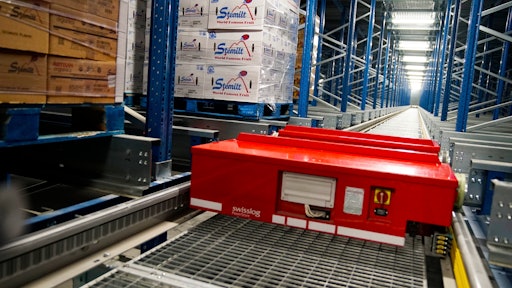 Swisslog

Swisslog will highlight a variety of flexible, robotic, data-driven solutions at MODEX 2020, all featuring software-driven integration of advanced warehouse technologies designed to give e-commerce/retail and consumer goods fulfillment and distribution operations the flexibility and ease of operability to meet rapidly changing demands.
ItemPiQ with AutoStore delivers new level of productivity
With rapid robotic picking, improved product recognition and multiple gripping modes that adapt to different products and sizes, Swisslog's ItemPiQ makes robotics an option in more places than ever. And, when integrated with the AutoStore robotic storage and retrieval system, it's a solution that creates a fully automated goods-to-robot system designed to shorten both pick times.
At the core of the ItemPiQ solution is a KUKA 6-axis lightweight robot that works with extreme precision, even in tight spaces, with the robotic arm extending up to 43 inches to reach into bins containing individual items. The vision system, consisting of a 3D camera and smart image recognition software, identifies the optimal gripping points of the items to be picked and instructs the robot arm's multi-function gripper.
"Picking is one of the most time- and cost-intensive processes in internal logistics. Picking and packing can account for nearly 50% of all logistics costs in industrial and commercial logistics and distribution centers," says Markus Schmidt, president, Swisslog Americas. "ItemPiQ helps cut these costs permanently while helping alleviate labor shortages. This advanced version of the technology works faster, smarter and with higher precision, while offering a very simple user interface. Best of all, the system's SynQ software enables the gripper to learn as it picks. The first time it encounters an item, it will make a decision on the best way to pick it. The next time it sees the same item, it will remember whether that choice was successful and make constant improvements that translate into shorter cycle times and higher pick success rates the longer the system in in operation."
When linked to the compact, cube-based AutoStore warehouse storage and retrieval system via the standard interface, ItemPiQ augments scarce human labor in picking operations to extend greater productivity.
E-grocery fulfillment: Reliable, scalable automation that improves speed and efficiency
As e-grocery sales increase, grocery chains need a strategic approach that supports same-day home delivery and curbside pickup. With Swisslog, grocers have a range of automation solutions to choose from to fit their e-fulfillment strategy. Whether it's a hub-and-spoke arrangement, a bolt-on store automation approach, micro-fulfillment centers or a fully automated grocery store, Swisslog maintains experience with major grocers on the automation technology and software to support e-grocery fulfillment.
Swisslog celebrates 50 years of pallet AS/RS expertise
Swisslog's Vectura AS/RS solution boasts an innovative design for high bay warehouses. Its modular structure and compact design handles single-, double-, triple- and even multi-depth layouts, all while reducing energy consumption by up to 20% compared to traditional cranes.
Swisslog's PowerStore pallet shuttle systems has the ability to meet high demands for throughput in the smallest space requirements, making it an ideal solution for facility retrofits, fast moving pallet AS/RS and end-of-production line storage.
SynQ: Orchestrating automaton and delivering transparency across the operation
Swisslog's intelligent and modular SynQ software platform orchestrates and improves all material flows and visualizes them in real time and in 3D. In addition to traditional WMS functions for automatic and manual storage zones, SynQ offers intelligent services, as well as virtual and augmented reality applications that streamline maintenance, employee training or spare parts management.
Companies in this article