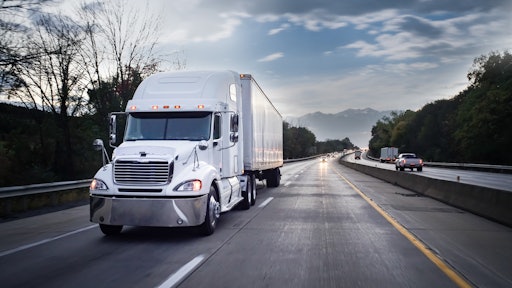 5m3photos/stock.adobe.com
In 2019, electronic logging devices (ELD) became a congressionally mandated requirement for all motor carriers and drivers to record driver hours-of-service data. This was done as an effort to help create a safer work environment for drivers and to make it easier, and faster, to accurately track, manage and share records of duty status. Later, specifications for ELD materials were announced and the Federal Motor Carrier Safety Administration (FMCSA) released education on those requirements, how to reach them and a full list of compliant devices.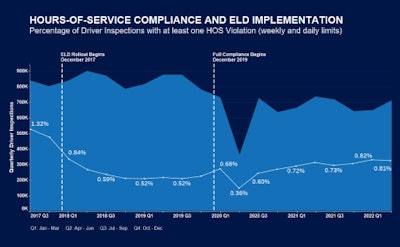 This graph, by the FMCSA, shows how hours-of-service violations have fallen since ELDs have been in use. This helps prove the importance of these devices and the pivotal role they play in keeping drivers, and those around them, safe. Additionally, ELDs can be integrated into other management platforms, like payroll and maintenance scheduling. The effects of such can boost its practicality in the workplace.
"ELDs make it harder to adjust numbers of service hours so that drivers will stick to their HOS requirements. They provide many benefits to the food industry, including enhanced safety. With an ELD installed, drivers can submit more accurate and immediate driving times and dispatchers can better monitor drivers to ensure they are resting when required," says Sam Polakoff, CEO and founder of BrillDog. "ELDs also provide metrics so you can analyze which trucks are enroute, which drivers are on a break and which drivers are going to be late for a delivery. Additionally, they provide metrics on how well the driver is driving, such as hard braking or driving over the speed limit. ELDs can help with discovering which route is faster, how much time is needed to load/unload and which drivers drive safer than others."
Evolving through mobile data
As the evolution of technology has continued to transform most devices, mobile service providers have updated their data sourcing to levels surpassing 3G. As of Feb. 22, 2022, the FMCSA has mandated that ELDs be updated past 3G, as it's been phasing out for most major carriers such as AT&T, Sprint/T-Mobile and Verizon. As a result, many ELDs have lost compliance – though extensions were granted for specific devices over the course of the year, with set dates.
The FMCSA has continued to advise users to ask their ELD provider about their plans for upgrading or replacing devices as changes come into effect, sooner rather than later, and providers have been told to contact customers who are still using 3G-reliant ELDs. BrillDog says that some carriers simply wait until their device "goes dark" before spending the money and effort to upgrade. A costly decision that could come along with consequences. Once the mandate is in full effect and the mobile carriers stop service that's it – most grace periods and windows for remedy will have come and gone. AT&T retired their 3G network as of February 2022. Sprint, including their LTE network, retired as of March and June 2022. T-Mobile concluded theirs in July 2022 and Verizon is scheduled for end of 2022.
"Once the network pulls the plug on 3G, these devices will no longer be able to communicate over the network and the carrier will have to upgrade," says Polakoff. "Mobile carriers are shutting down their 3G networks in favor of more advanced networks like 4G. ELDs that can support 4G networks will work. If the mobile carrier goes to 5G, you need to make sure your ELD supports that type of network. Another thing to consider is cross-border transportation. Canada has different ELD requirements than the US, so if you drive in/out of Canada, you may have to use another type of ELD."
Canadian and cross-border operations have been met with their own changes regulated by the Canadian Council of Motor Transport Administrators (CCMTA) that announced their own "soft-enforcement" mandate through January 1, 2023. Frank Stowers, senior product manager at Trimble Transportation, says "this enforcement window, centered on "elevated education and awareness," is intended to help fleets gain an understanding of the rule and how to comply with its technical requirements," citing the differences between Canadian mandates and the U.S. For example, if a malfunction or diagnostic event is noted on an ELD, drivers must notify the motor carrier immediately, unlike in the U.S. where they are given a grace period of 24 hours. Being aware of all rules and regulations regarding ELD use in your given area is key to maintaining usability.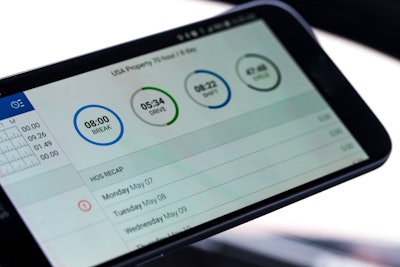 The risks and rewards
Failure to comply with the changes in the U.S. regarding 3G harms companies in major ways; without upgrading or switching your ELD to a newer 4G network, carriers are subject to non-compliance penalties and to the hours-of-service regulations. Fines for ELD violations can range from $1,000-10,000, according to the North American Transportation Association, with the highest fine ever recorded being $13,680.
Plakoff says, "if any trucker fails to transfer data from the ELD device when prompted to do so by an authorized enforcement official, then he or she will be charged with 'no record of duty' status. Truckers must log into their ELDs before starting a journey and log out when complete and those that don't are also charged with a 'no record of duty' status."
Bill Vitti, president and CRO at Transflo, says, "we still see division in the industry surrounding the ELD mandates as organizations like the FMCSA suggests ELDs have improved safety on the roads, whereas proponents with the Owner-Operator Independent Drivers Association (OOIDA) disagree."
The only true defining factor here seems to be data– the data collected by the ELD devices themselves, and the data compiled from those metrics that provide necessary information on safety and compliance that could improve the field. While mandated upgrades in ELDs have left some providers scrambling to meet the demand, many have taken the opportunity to improve upon these ideas by coupling the devices with the use of other solution, such as telematics, to further the effect.
"An important element to examining the impact of ELD requirements is data. Immense amounts of data are now available due to the required ELDs recording multiple stats with telematics technology. This abundance of data offers safety-based details such as digital accident recreation, hard-braking incidents, speed and more. Beyond safety and compliance, the telematics data has additionally helped many fleets with operational efficiency and truck maintenance visibility (including opportunities for preventative maintenance and pre-planning). Telematics data also gives flexibility to fleets, allowing them to analyze all this data and create their own reporting, enabling business growth," says Vitti.
The transitions of mobile service, 3G to 4G, has increased demand for ELDs and created standout products. Unfortunately, supply chain disruption has a reach here which has slowed some production due to the shortage of semiconductors stemming from COVID. This was one factor the Canadian mandate took to hear when issuing their extension to the beginning of 2023, allowing sufficient time for fleets to ensure they source and receive the hardware needed within a reasonable period based on the current state of the world.
"ELDs came into the industry in distinct phases, starting with the mandate requiring the switch from paper logs to ELDs, phasing out AOBRDs (Automatic Onboard Recording Devices), etc." He says, "In the beginning, it was all new for everyone with fleets primarily focused on just the HOS (Hours of Service) compliance aspect, but over the past couple of years we've seen a shift leading to more fleets asking, "what else can this technology do for me?" Again, the data is profound here with recordings of vehicle breakdowns, engine faults, fuel and mileage, accident reporting, idle times, and more," Vitti says.
Vitti continues, "The retiring of 3G affects everyone – some more than others, depending on their cell provider and ELD/telematics provider. We're now in a time where it's no longer a question of "if" but "when" fleets need to replace their devices. Some cellular providers have already retired 3G with others completing their discontinuation of the technology in the coming months. The 3G phase-out has increased competition between ELD providers as thousands continue to seek out 4G-compatible replacement devices."
A future beyond hours-of-service
Telematics data collection can be a great assistant alongside ELD tracking. Many fleets are using this resource already, collecting data and organizing it as a useful tool for productivity. According to Transflo, there is an opportunity to use data recorded through telematics solutions to make the analytics translatable into a meaningful, tangible thing. There is, now more than ever, a possibility for data collection to go beyond simply meeting compliance and providing safety that is almost impossible to ignore.
As mobile devices evolve, there are many advantages to the advancement of this technology including faster data rates, smoother transfer of information and an increase in overall efficiency. The hesitation to adopt these changes, for users and suppliers, creates risk, for drivers in the seat and for ELD providers who may put their devices in jeopardy of becoming non-compliant and therefore obsolete. The future of ELD technology revolves around the advancements made by networks and how providers grow with it. Moving from 3G to 4G is a part of that natural progression, but as mobile carriers now move to even stronger networks, ELDs will need to continue to follow the trends, support the changes and utilize emerging technology to leverage future users.