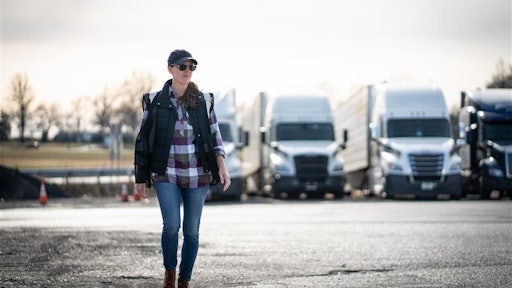 5m3photos
Drivers are the lifeblood of any successful fleet, and just like topping off the oil in an engine, it pays to keep drivers happy by recognizing when they go the extra mile in their day-to-day. Raising morale among a fleet's drivers isn't just a matter of doing the right thing; data has proven that it can also positively affect the business's bottom line. As a fleet manager, the best way to show your truckers that you appreciate their efforts is to make sure your best drivers are properly rewarded for their hard work.
Here are some steps to make sure your truckers feel appreciated:
1. Determine how to reward excellence. There are many different ways to reward drivers who go above and beyond, but higher pay is always a safe bet. The approach will change depending on the fleet, but a reliable method is paying drivers a higher per-mile rate based on their safety record. This is ideal in that it ensures more miles convert to more pay while ensuring safety and compliance don't slip in a rush to add miles. Other fleets may make use of a driver safety incentive program, offering perks and bonuses in exchange for spotless records. The key to maximizing morale with these efforts is to ensure that they always feel like rewards, rather than punishments. For example, getting a bonus for safe driving may be a great feeling for a driver, but if those bonuses end up being an expected part of their monthly pay, they may lose that special feeling and conversely feel punished if they lose it to an infraction.
2. Know who the best drivers are. It can be very difficult to reward top drivers if you don't know who they are. You can only directly oversee so much when your drivers are miles away, but today's telematics offerings make it easy to track numerous behaviors across an entire fleet. Quality telematics will tell if a driver is adhering to speed limits, stopping to get enough rest, avoiding harsh braking, taking corners smoothly and more. These insights can be further customized to focus on particular areas that may need improvement, opening the door to conversations on how the fleet can improve.
3. Generate a driver scorecard. Once you have all the data, it's time to put it into action. Driver scorecards track and measure fleet drivers' behaviors to make sure they don't have any dangerous driving habits. These scorecards rank drivers based on individual violations, painting a clear picture of who is excelling and who needs assistance. Fleet owners can incorporate this information into their incentive programs, providing tiered rewards for drivers who rank better on focus areas such as stop sign violations or speeding. Performance trends can be made visible – anonymously – throughout the fleet, giving struggling drivers something to strive for while bestowing a sense of pride on those who are at the head of the pack.
4. Coach drivers. Driver scorecards provide a clear picture to the whole fleet of what top performance looks like, but going a step further and directly coaching those lagging behind will be what closes the gap. Managers can use the data from scorecards to provide direct feedback at the end of any given trip, day, week or month. With the right system, drivers will be notified whenever they make an error while driving, so they also know what areas they can focus on improving.
5. Keep it going year-round. Making a special gesture out of recognizing your best drivers is sure to have an impact even if you just do it once, but the greatest reward would be to continue showing that appreciation year-round. Implement the practices above and stay consistent with them; and don't be afraid to brainstorm other custom-made initiatives that will let drivers know you care about them.
Happy drivers that feel appreciated on average stay with their companies longer, are more efficient in their daily jobs and demonstrate more commitment and ownership towards their tasks.