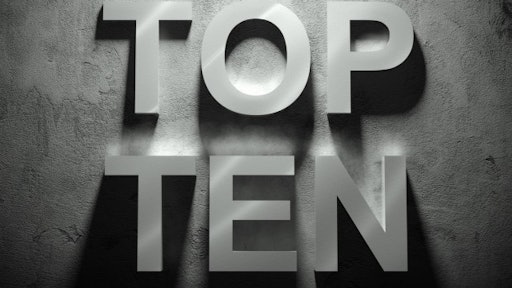 It's been an exciting year for the supply chain, and Supply & Demand Chain Executive has been covering the entire thing. With emerging technologies dominating the industry and companies vamping their delivery processes, readers have had a range of topics to dive into. Below are the top 10 most read SDCE articles in 2018.
10.) The Internet of Things Transforms Logistics
For our tenth most read article of 2018, Macie Kranz notes how the Internet of Things (IoT) is revolutionizing the logistics industry. By connecting everything from parcels to people, the IoT is enabling supply chain and logistics companies to track and trace freight in real time, allowing management to make data-driven decisions that improve operational efficiency. IoT has become a critical component in helping logistics companies meet the demands of today's fast-paced, global economy.
9.) Big Data: What's the Big Deal for Procurement?
When "big data" was first added to the Oxford English Dictionary, the industry had only seen the tip of the iceberg. We are currently in the midst of a big data revolution, with around 2.5 quintillion bytes of data being produced daily. The proliferation of data has led many organizations into a period of innovation. In this article, transforming data into useful, actionable insights has never been greater, and no industry is immune from the big data revolution underway.
8.) Warehouse Equipment Innovations: The How's and Why's of Robotics in the Warehouse
SDCE editor Amy Wunderlin tackles this profile on Locus Robotics as warehouse automation started to boom. In the article, Locus Robotics' chairman and founder Bruce Welty teaches us about his robots and how they are helping shape the global supply chain.
7.) Trends in Cooperative Purchasing for 2018
Cooperative purchasing continues to attract attention as one of the fastest growing or most dynamic parts of the procurement landscape. Its strong growth and higher awareness as an accepted buying option has led some to wonder if the industry is at a "tipping point" or if it is transitioning from an "emerging" phase into more of a "mature" phase in this trend. SDCE editors sit down with Tammy Rimes, executive director for National Cooperative Procurement Partners, for more insight on the topic.
6.) Blockchain is the New Supply Chain
Global competitive markets are eclipsing local economies and jurisdictions by forcing supply chain ecosystems to evolve. Enterprises are following suit and digitally transforming their businesses in order to broaden their reach on the world-stage. Cloudleaf worked with SDCE to produce this content on how blockchain is here to stay.
5.) Overcoming Last-Mile Delivery and Urban Logistics Obstacles
Last-mile delivery has been a hot topic for the last few years as e-commerce continues to grow. While the concept seems easy to handle, details are crucial in this process. With creative solutions like delivery lockers, drones, use of the sharing economy and robots, logistics can conquer.
4.) Warehouse Robotics: What's Emerging and Where's it Headed?
Automation is taking over the warehouse space, leaving many to wonder if robots will eventually replace human workers. Don White notes that while the concerns are valid, the human workforce still holds the upper-hand in running an efficient warehouse.
3.) Maslow and the Supply Chain—An Enlightening Journey (with Apologies to Maslow)
Maslow's hierarchy of needs is a well-known psychological principal that describes an individual's journey toward spiritual enlightenment. Gaining insight into your supply chain takes on many similar characteristics. It is a journey and not a destination. With apologies to Maslow, please read on.
2.) SDCE 100 Names Best Supply Chain Projects for 2018
The 2018 Supply & Demand Chain Executive 100 shines the spotlight on the industry's most successful and transformative projects that deliver value to enterprises across a range of supply chain functions. The projects featured in this awards program offer a forward-looking perspective for the industry on new opportunities designed to drive operational success.
You can apply for the 2019 SDCE 100 award here.
1.) Meet the Pros to Know in 2018
2018 started off with a bang as SDCE announced its Pros to Know in 2018. The coveted award recognizes Provider Pros and Practitioner Pros, including teams. The recipients embody the commitment to transformative supply chain tools and processes, earning these individuals a rightful place in this year's Pros to Know listing.
You can apply for the 2019 Pros to Know award here.