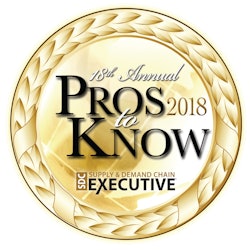 Supply & Demand Chain Executive, the executive's user manual for successful supply and demand chain transformation, is pleased to announce the 18th annual listing of Pros to Know in the supply chain industry.
The annual award recognizes Provider Pros and Practitioner Pros, including teams. The Provider Pros to Know is a listing of individuals from a software firm or service provider, consultancy or academia who helped their supply chain clients or the supply chain community at large prepare to meet the significant challenges in the year ahead. This year's list includes nearly 200 qualified Pros to Know.
The Practitioner Pros to Know is a listing of exceptional corporate executives at manufacturing and non-manufacturing enterprises who are leading initiatives to help prepare their companies' supply chains for the significant challenges in the year ahead.
This year's Practitioner Pros to Know list also includes recognition of seven supply chain teams.
"Supply & Demand Chain Executive congratulates the 2018 Supply & Demand Chain Executive Pros to Know recipients. The Pros to Know is a listing of exceptional corporate executives at manufacturing and non-manufacturing enterprises who are leading initiatives to help prepare their companies' supply chains for the significant challenges in the year ahead," says John Yuva, editor of Supply & Demand Chain Executive. "We commend this year's recipients for their achievements in supply chain and for paving the way for the next generation of exceptional supply chain leaders. This year's recipients embody the commitment to transformative supply chain tools and processes, earning these individuals a rightful place in this year's Pros to Know listing."
To see the entire list of Pros to Know, please click here. Featured recipients are as follows:
2018 Provider Pros to Know
Jerry Rau, Chief Operations Officer, 3Gtms
Rau has decades of supply chain experience as a vendor and working with supply chain and transportation software solutions from the carrier/3PL perspective. His unique background shapes his approach to solving customer problems and providing meaningful solutions that deliver lasting value. He has served in numerous leadership capacities and uses those experiences as the chief operations officer at 3Gtms. Rau leverages his past experiences to ensure the focus is on customer satisfaction throughout each engagement.
Chad Symens, President and CEO, Accelerated Analytics
Symens is the founder and CEO of Accelerated Analytics. He works with the brand's outsourced departments to handle all POS analysis and data reporting needs and provides their teams with customized reports and flexible ad-hoc analysis tools. Symens works with customers in consumer products, DIY/home and hardware, apparel and cosmetics. With his product, brands have access to sales performance, trends, week of supply, GMROI, turns, inventory levels, sales to stock ratios, average selling and sell through.
Trevor Read, President, Agistix
Read has a passion for data, a deep understanding for global supply chain continuum and associated technology challenges required to integrate, correlate and automate data across multiple disparate systems. Read brings a unique technology perspective to global supply chains to align and streamline transactional information across countless supply chain partners. Read is the CTO of the supply chain, not only aggregating and correlating transactional data, but he also provides a rich visualization tool so clients can easily digest information and proactively manage supply chain activity.
Hannah Kain, President and CEO, ALOM
Kain's career as a supply chain executive and industry visionary has accelerated over the past years. Kain has put the "pedal to the metal" in positioning ALOM for future growth and success through investments in technology, staff expertise and industry advocacy. In addition, she spearheaded an internal initiative to upgrade all ordering processing and freight management systems and developed a recruitment and staffing plan to fill critical skill sets that would fuel aggressive growth over the next 10 years. Kain is involved in advocating for industry career opportunities through ALOM membership and support of other industry organizations. She has hosted events and open houses at ALOM for student groups and has been a featured speaker and industry panelist across the country. Kain continues to promote career opportunities in supply chain, especially focused on STEM learning for young women.
Jon Slangerup, Chairman & CEO, American Global Logistics
Salngerup joined American Global Logistics as chairman in April 2017 and was appointed executive chairman and chief executive officer in July 2017, bringing 36 years of experience. Rather than apply an off-the-shelf software and tweak it to unique needs of its customers, under his leadership, AGL tailors solutions for each customer. Slangerup has built businesses throughout North America, Europe and Asia, serving customers in more than 100 countries.
Shankara Gurumurthy, Supply Chain Practice Director, Arkieva
Gurumurthy leads a team of supply chain consultants delivering solutions for global manufacturing companies. Presently, Gurumurthy is leading a global implementation of a one-plan S&OP system at AkzoNobel, which includes demand planning, financial planning, inventory and supply planning as part of integrated business planning. Since joining the Arkieva team in 2008, Gurumurthy has focused on setting up demand planning systems in both tactical and strategic time horizons. His tasks ranged from gathering the client requirements, developing a viable sales forecast, building business-centric collaborative models and creating actionable metrics to achieve overall operational efficiency.
Jason Averill, Executive Vice President, Avercast LLC
Averill is a second generation forecasting/demand planning expert with more than 20 years in the industry. Averill is a proponent of end-to-end supply chain collaboration. Many of his current projects are working with customers to facilitate a common medium of web based communication that translates the entire end-to-end supply chain planning process to all trading partners. He is able to help his customers reduce their lead times, increase inventory turns, improve customer service levels and facilitate an overall lower supply chain cost. As the executive vice president, Averill is able to work directly with many industry executives and practitioners to advance industry research, collaborate on new theories and improve available technologies.
Peter Zalinski, Product Manager, Identification Solutions, Barcoding Inc.
Zalinski continuously enables customers to become more efficient, accurate and connected in the supply chain industry. He has helped customers create compliance labeling solutions for supply chain management using a variety of platforms and has witnessed the evolution of GS1, UID and RFID standards from close-up. Zalinski is a jack-of-all-trades when it comes to problem solving and solution resolution. Using his experience in the field, Zalinski understands the importance of not only tracking data, but analyzing it to gain further visibility into the enterprise as a whole so that supply chain leaders can make better decisions and drive growth.
Jake Barr, CEO, Blueworld Supply Chain Consulting
Barr is known in the industry for his deep supply chain mastery and ability to provide critical business transformation insights. He was the architect of both the original "demand-driven" movement and most recently supply chain transformations leveraging control towers and next generation simulation and trade-off analysis. Barr has earned the reputation as a Provider to Know across multiple industry verticals.
Katie Kinraid, General Manager, APAC, BluJay Solutions
Kinraid is an innovative leader who keeps a continuous eye on the market for what's next. Her cross-functional leadership experience in the supply chain industry gives her valuable perspective to help companies meet their greatest challenges. Kinraid has served in global marketing and product leadership roles that give her the responsibility of design, development, implementation and delivery applications. Her solutions have delivered value for customers and helped to save millions of dollars. She continues to influence companies' adoption of technology and collaborative, connected solutions that provide the visibility and analytics to help them meet challenges.
Seth Blaustein, Solutions, Director of Marketplace Development, B-Stock
On a daily basis Blaustein delivers reverse supply chain support for nine of the top 10 U.S. retailers. Since joining B-Stock, he has immersed himself in providing solutions for over 200 retailers and manufacturers, including launching, managing and overseeing private, customized liquidation marketplaces for over 50 clients. Blaustein has been instrumental in establishing a logistics program/partnership with CH Robinson, Yusen and FedEx. These programs have helped streamline shipping operations for the reverse flow of inventory. The first program, which began between CH Robinson and Walmart, has now carried to other accounts, with customized shipping integrations offered as part of B-Stock's client onboarding process.
Sean Cleland, Director of Mobile and Business Development, B-Stock Solutions
Cleland has worn many reverse logistics hats during his time at B-Stock Solutions. He has established partnerships with logistics, finance and inventory processing organizations including, CH Robinson, Freight Quote and Electronic Recyclers International. Cleland was in charge of launching the inside sales team responsible for growing the client base. Under his leadership, the marketplace went from three new sellers a month to 30. Most recently, Cleland became head of B-Stock's mobile division, serving as the executive point of contact for all of their mobile clients.
Marsha Young, Director of Business Systems and Implementations, Cass Information Systems Inc.
Young is a veteran in the freight audit and payment industry, understanding the critical impact transportation expenses can have on the overall health of a company's supply chain. She guides and designs systems to best use practices to forecast transportation expenses that allocate transportation costs and use data for optimization of transportation and logistics networks. Young's experience and knowledge in industry verticals provide insight into the client's needs and is able to provide customized transportation rating, audit and business intelligence solutions that help create company advantage.
William (Bill) Mrzlak, President, ChainSequence Inc.
Amassing a wide range of experience and expertise across different industries and organizations all over the world, Mrzlak has earned enormous respect by providing supply chain and sales and operations planning services for over 25 years. He has attained the level of elite status because of his practical leadership, breadth of knowledge and singular ability to demonstrate a sound business case for change management among executive leadership and follow through on this plan with a sustainable implementation strategy. Working side-by-side with cross-functional and organizational teams to guide the process, Mrzlak's proven approach consistently results in positive, quantifiable improvements and long-term success.
Jonathan SisleR, President, Coyote Logistics
Sisler is a global and strategic leader with more than 15 years of experience. Starting in 2008, Sisler served as the chief financial officer. When UPS acquired Coyote in 2015, Sisler's extensive industry knowledge and leadership experience led him to assume a new role as president of Coyote. In his first year as president, Sisler continued to lead Coyote as a new subsidiary of UPS. Almost two years after the UPS acquisition, Coyote is still a leader in the industry. Two thousand seventeen was a special year for Sisler because Coyote broke every metric it tracks: volume, revenue, gross margin, headcount and more. Sisler has helped transition Coyote from a private equity-backed startup to an established industry leader and UPS subsidiary.
Bill Harrison, President, Demand Management Inc.
Harrison is a visionary and a disruptor. Rather than simply providing manufacturers and distributors with solutions that allow them to keep doing business the way they always have, Harrison stays abreast of how changes in the market will impact the supply chain, giving companies the solutions to face those challenges.
His mindset was what led him to take supply chain planning to the cloud by re-architecting and rewriting the entire Demand Solutions and product line for the web.
Ann Drake, Chairman and CEO, DSC Logistics
Drake has served as DSC Logistics' CEO for the last 20 years, transforming the company and supply chain industry. She has guided DSC to become one of the nation's leading supply chain management firms by creating a business model based on collaborative partnerships, innovative thinking and high performance operations. Drake is also involved in groups focusing on infrastructure and transportation as they impact America's global strength and competitiveness.
Steve Murphy, CEO, Epicor Software
As the CEO, Murphy heads the organizations efforts to provide the leading technology and expertise to help Epicor customers gain the visibility and control to drive supply chain excellence. Since joining in October 2017, Murphy brought his 20 years of experience to help provide a long-term strategic vision for the company, focusing on customer experience and delivering innovative products, services and support that drive business growth.
Thierry Jaffry, Vice President Operations, North America, Flucticiel Inc.
Jaffry has been in the procurement systems space for nearly 20 years. Since joining Flucticiel in 2015, they have had consistent growth in the United States and Canada.
Jaffry has signed major clients, and within these projects, he has been able to help his clients implement the best procurement practices under his expertise. Jaffry is a regular speaker at events and frequently writes blogs about procurement challenges.
Tray Anderson, Vice President, Strategy, Fortna Inc.
Tray Anderson has over 20 years of consulting and industry experience blending his operational knowledge with consulting know-how using world-class tools. Throughout his career he has facilitated solving complex problems using integrated solutions with the goal of making organizations more effective. He has been integral in over 150 projects to lead investments in various supply chain infrastructure needs in transportation, warehousing and real estate. He works with the C-suite on a daily basis to build a business case for change that yields the desired return on investment.
Christopher Davis, Senior Director, Professional Services, Fortna Inc.
Davis is a supply chain professional with a long record of driving results for his clients. He brings more than 20 years' experience directing, improving and consulting for the supply chain operations of Fortune 500 companies. . As a senior director at Fortna, he manages the firm's largest projects – multi-year transformations of distribution operations for clients. Davis has been published and quoted in a number of trade journals and is a popular speaker at industry conferences. He holds a number of supply chain certifications and gives back by volunteering with a number of charitable organizations.
John Giangrande, Director, Sales, Fortna Inc.
Giangrande is an innovative supply chain strategist who helps companies transform their complex distribution operations into a competitive advantage. He is highly regarded for driving large-scale transformation projects. He develops a strong business case for investment and gets alignment across a diverse group of stakeholders. At Fortna, Giangrande helps high-growth companies develop their distribution network strategy, conduct operational assessments, and assists in the design their distribution centers.
Srini Vaidy, Founder and President, Highway 905
Vaidy has established vision in the supply chain and logistics space with a passion for coding. He was recognized as a key innovator in developing the state-of-the-art Warehouse Management System while working with IBM Application Lab and Honda's manufacturing unit. Being a visionary in his domain, many of the best global Fortune 100 companies have sought his expertise and still consult him on numerous occasions. Vaidy has been actively involved in helping clients realize their business visions with a strategic roadmap for their supply chains.
David Marchand, CEO, ICIX
Marchand led ICIX in creating and implementing ICIX 2.0, a major innovation that amplifies the capabilities of ICIX 1.0 by putting it on the Salesforce platform. The upgrade makes it possible to easily share compliance information throughout organizations. Marchand understands that transparency is the basis for supply chain trust and risk management.
Matt Smith, Chief Strategy Officer and Founder, ICIX
Smith is a leader with a vision for creating and constantly improving technology that helps companies collaborate with their supply chain partners to advance product safety, compliance and social responsibility efforts. He founded ICIX and ensures that all of the trading partners in their extended supply chains meet their objectives in these areas. Smith is a regular featured speaker at major events, such as the International Consumer Health and Safety Organization, American Apparel and Footwear Association and the Global Food Safety Initiative.
Tom Barnes, CEO, Integration Point
Barnes has been a leader in the industry for 28 years. His close collaboration with his customers has resulted in ongoing expansion and enhancement of Integration Point's offerings, making them one of the world's most recognized brands. Under his leadership, Integration Point has developed the most comprehensive GTM solution on a single platform that integrates with major ERPs, thousands of supply chain partners and numerous government entities. As a key figure in the industry, he has demonstrated his passion for the field and that shows itself in the enthusiasm of his employees. Barnes is a sought-after speaker at many industry events and is a strong supporter of ongoing education. He has collaborated with several universities to build future expertise in global trade compliance and sits on the International Business Board at the University of South Carolina.
Anne Omrod, Founder and CEO, John Galt Solutions
With more than 20 years of experience in the supply chain industry, Omrod is a true industry expert. She has helped numerous companies develop their supply chain processes and improve business results. Omrod is dedicated to the success of every customer and is proving time and time again that her solutions move the supply chain industry forward.
Karin Bursa, Executive Vice President, Logility
Bursa has more than 25 years of experience in the development, support and marketing of software solutions to improve and automate enterprise-wide operations. Bursa is viewed as an expert resource on topics related to supply chain planning and retail optimization, and is frequently sought after by industry-leading magazines. Bursa is also passionate about giving back and helping her local community. For more than 10 years, she has been on the board of the Empty Stocking Fund (ESF), a 90-year-old program that helps children in poverty around Atlanta experience a brighter holiday season. She has helped champion the program at Logility, helping more than 1,000 children in the last year alone.
Allan Dow, President, Logility
Dow believes a company's technology provider should be a consistent partner that they can rely on. As part of this focus, he has led several critical initiatives for Logility that have made a tremendous impact on both the company, and more importantly, its customers. Dow continues to invest in programs that deliver on this mantra. Through his leadership, Logility acquired privately-held Halo Business Intelligence. As supply chains transition toward a digital era, driven by algorithmic planning and machine learning, companies need a single, integrated platform to simplify the growing complexity and abundance of both structured and unstructured data.
Ed Thompson, Executive Vice President of Global Services, Logility
As the executive vice president of global services, Thompson leads a team of more than 65 supply chain experts across the globe. He encourages innovation and believes that no idea is too small. Thompson is well respected across the industry for his "hands-on" approach with customers, and makes it his mission to build relationships based on trust to ensure customers achieve the highest level of support and success. One of his main goals is to combat the talent gap that is plaguing the industry by providing companies with the knowledge and strategic planning to best optimize their supply chain teams. In addition, he continues to build a central resource for all levels of supply chain expertise through Logility's Optimization Services.
Jochen Schuehle, CEO USA and Canada, Miebach Consulting
Schuele brings 24 years of experience into the supply chain industry and has supported clients around the world on designing, optimizing and implementing state-of-the-art supply chain. His project work has touched nearly all aspects of the supply chain across all industries. Under his leadership as the CEO of Miebach's North American operations, the organization has seen sizable growth. His career has led him around the world, having worked on engagements in not only North America, but also across Europe, Asia and Latin America.
Martin Verwigmeren, Founder and CEO, MP Objects
Verwijmeren is a veteran in the supply chain industry and has a long track record of leveraging technical innovations to help organizations improve their supply chain execution performance. As founder and CEO of MP Objects, he has significantly grown its worldwide customer base since its launch. Verwijmeren has both academic and professional credibility in the logistics and supply chain industries. His passion for using technology to optimize complex orders and their execution in the supply chain has resulted in an innovative, flexible cloud solution that will be taken into consideration for the nascent Gartner Magic Quadrant categorization of Multi-Enterprise Business Networks and Platforms.
Donald Hoeppner, Executive Partner, Paladin Associates
Hoeppner is an executive with over 30 years of GE global multi-functional leadership experience. He helped co-found Paladin Associates, where he serves as the executive partner. Hoeppner assists clients with technology implementations while delivering significant savings, which improve cash flow and profitability and shareholder value.
Matt Yearling, CEO, PINC
As the CEO of PINC, Yearling's key focus has been on automating the digitization of inventory, equipment and processes for the company's customers. His leadership has been crucial in applying innovative unmanned aircraft technology and autonomous drones, coupled with optical RFID and other sensors, to improve the journey and drive value in the supply chain. Yearling has established himself as a leader in the digital supply chain and inventory robotics space. In 2017 alone, he spoke at more than 15 trade shows and conferences. Yearling has contributed to several publications with original articles and continues to be a contributor to leading research firms about these topics.
John Costanzo, President, Purolator International
Costanzo has overseen Purolator International's growth from a small freight forwarder to the comprehensive supply chain and logistics services provider it is today. Costanzo has driven the company's success with a commitment to innovation and service. Never content with the status quo, he continually inspires employees to come up with creative ways to help clients better their customers. To measure customer satisfaction, Costanzo conducts an annual survey to gauge each customer's overall experience with Purolator International, earning them a performance rate of 97 percent. Costanzo realizes that a key element to providing customer satisfaction is to have a happy, motivated work force. Costanzo also measures the employees' satisfaction, receiving the highest amount of positive feedback in 2017.
Jeff Butler, Product Manager, Logistics Solution, Quintiq
For nearly 10 years, Butler has employed advanced analytical techniques to optimize operational decisions. Butler has tackled various industry challenges and has developed impactful solutions resulting in efficient gains. He works with customers to transform old assumptions into current data through machine learning. Butler determines what factors impact a driver and enthusiastically works with his customers to optimize their transportation plans.
Peter Shin, Director of Pre-Sales for North America, Quintiq
For over 10 years, Shin has advised companies in the modernization and transformation of their critical operation decisions. Shin obtains companies' goals by defining the corporate strategy agnostic of supply chains and identifying supporting KPIs that indicate whether or not the supply chain changes are working toward their best efforts. Shin is not afraid of modernizing; in fact, he encourages it. Shin continues to coach companies to reinvention with much success.
Frank Dreischarf, Vice President of Supply Chain Solutions, R2 Logistics
Dreischarf's extensive knowledge and experience in the transportation industry has spanned over two decades. He has held high-level positions with companies where he was responsible for logistics strategy and execution supporting $2.8 billion in annual revenues. In his current role, Dreischarf is responsible for developing and managing R2's multi-modal and supply chain service offerings. He believes logistics is a relationship-based business and the foundation for any successful relationship is integrity and trust.
Mikko Karkkainen, Group CEO, RELEX Solutions
With more than 15 years in the field, Karkkainen has become an expert in supply chain planning. Karkkainen reached early success by being one of the three co-founders of Relex Solutions, Europe's fastest growing technology company. As the group CEO, Karkkainen is responsible for day-to-day operations and relationships with clients. He has published more than 30 papers on supply chains, and his constant contributions to the industry make him a Pro to Know.
Kirk Studdiford, Director of Client Services, Synchrono
Studdiford establishes immediate creditability with operations, supply chain, IT leaders and more based on his vast knowledge of lean and demand-driven manufacturing. His expertise is sought out by clients across the globe for his ability to quickly diagnose issues and put forth a plan of action. Studdiford instills his knowledge, high performance and laser focus on what's important to the customer throughout his entire team.
Sophie Dabbs, Vice President of Solutions Engineering, Transportation Insight
Dabbs launched the enterprise logistics provider's solutions group and leverages a diverse supply chain and client management background, working for carriers, shippers and other 3PLs. She guides her Transportation Insight team through the design of solutions focused on transportation management, carrier sourcing and business intelligence to achieve material cost savings, access to actionable data, increased supply chain visibility and risk mitigation. Dabbs is a passionate and results-oriented professional who is skilled in understanding both subtle and complex business challenges. Working alongside Transportation Insight clients, Dabbs creates achievable action plans and helps partner companies understand the importance of creating and evolving those action plans around change management as goals are reached and strategies evolve.
Bill Loftis, Senior Director, Integrated Solutions, Transportation Insight
Loftis provides shippers with a blend of tactical knowledge and strategic philosophy gained during 35 years of supply chain experience to facilitate solutions that solve strategic problems. By bringing together real-world solutions and clients' strategic needs, Loftis works not only to implement transportation improvement processes for clients, but also to help them understand how a shift in approach across the entire supply chain can create opportunities to provide an integrated solution delivering enterprise-wide results. His most recent work focuses on consumer packaged goods companies and grocery retailers, where these companies increasingly rely on best-in-class supply chain performance to improve business results.
Ken Wacker, Executive Vice President, Enterprise Business Solutions, Transportation Insight
Wacker has more than 30 years in the industry helping clients transform their supply chain and back-office functions to make them more effective, efficient and profitable. Wacker's expertise allows him to approach business challenges with a strategic view, enabling him to understand boardroom-level missions and goals and how they can cascade into the supply chain. Wacker leverages his executive lens to help clients assess supply chain risk, improve process compliance and facilitate practices that improve business sustainability. His experience driving profitable business growth makes him a valuable resource for strategic initiatives, vertical market penetration and client relationship development.
Gerry Romanelli, Chief Commercial Officer, TRIOSE
Romanelli has led the charge to shift focus at TRIOSE toward partnering with customers to best identify the right supply chain solutions to help them optimize their entire systems. During the recent hurricanes, hospitals encountered supply shortages that left the facilities unable to operate. TRIOSE has a contingency plan in place to assist healthcare facilities. Part of Romanelli's goal is to function as a facility's partner rather than just a vendor. Romanelli continues to expand TRIOSE's logistics portfolio and is working to transform TRIOSE into a healthcare solutions company that uses a consultative approach to help improve clients' bottom lines.
Steve Beda, Executive Vice President, Customer Solutions, Veraction
Beda assists clients with formulating and executing strategies related to transportation spend management. As part of overall program management, he also assists with the ongoing measurement of execution strategies using various key performance indicators and associated influencers. Beda has spent the last 25 years working with companies on supply chain automation, execution, compliance and spend management strategies. He has assisted dozens of clients with contract optimization strategies through coordination of transportation RFP's as well as measurements of savings post-RFP. Beda has blended the effective use of predictive modeling, modal expertise and an optimized process for all modes of transportation, saving companies up to 15 percent in transportation spend.
Shelley Bell, Manager, Industry Marketing, Yale Materials Handling Corporation
Bell's supply chain experience has varied over the course of her career by working in marketing, sales and purchasing roles for everything from beverage trailers to lift trucks. Her diverse background has helped build a well-rounded, strategic and tactile understanding that makes it easier to affect change and advise customers. With disruptive shifts continuing to accelerate, Bell provides insights that consider the entire picture—not just one segment of the supply chain.
2018 Practitioners to Know
Brandon Marugg, Chief Technology Officer, ALOM
As the chief technology officer at ALOM, Marugg is responsible for the development and implementation of all ALOM supply chain management systems and worldwide IT infrastructure. Marugg has spearheaded the development of five proprietary ALOM supply chain management systems, each of which could become a commercially-marketed industry standard tool. One of his most recent achievements, Marugg was instrumental in developing the systems and infrastructure allowing ALOM to help a high-volume medical device (DNA ancestry testing kit) customer increase their year-over-year order volume by 1,000 percent. In addition, he has spoken at national industry conferences on supply chain technology trends and predictions.
Lisa Dolan, Vice President of Supply Chain Strategy, ALOM
During her 25 year career in supply chain and manufacturing management, Dolan has successfully transitioned from her initial career track writing code for programming manufacturing automation systems to a successful career developing and implementing end-to-end supply chain strategies. This past year, Dolan secured supply chain management contracts with Mercedes Benz and Tesla. Dolan is creatively and collaboratively finding the answers to make things happen. Her technical background gives her the ability to approach new supply chain projects from different perspectives, each with its own set of challenges and potentials. Dolan remains active in the supply chain professional community and has served in many volunteer leadership roles, as well as being active in many women's diversity organizations. She is a mentor to many women and is a sought after speaker and panelist at industry events where she is an advocate and supporter of STEM educational opportunities and programs for girls and women.
Mike Reibsamen, Director, Integrated Supply Chain, Center of Excellence, Berry Global
Reibsamen brings his 18 years of experience as the director of integrated supply chain and center of excellence for Berry Global. He has a proven track record of designing, re-engineering and implementing logistics and supply chain management processes and systems that decrease costs, improve productivity and increase overall operational performance and profitability. Reibsamen is a change-agent with exceptional communication and is known for fostering a culture of trust and accountability with a focus on training and mentoring teams chartered to deliver exceptional results.
Sergio Retamal, CEO, Global4PL
Retamal offers 25 years of hands on experience with operational executive roles. He has worked at companies ranging from A-round with more than $1 million in revenues to public and $40 billion in revenues. Retamal has been an executive charter for the last 20 years, always leading teams to achieve cost reduction targets and improve operations for clients. Under his leadership, Global4PL has increased the IOR-EOR product servicing to over 125 countries. Retamal's philosophy has been to expand to any market where clients need their presence so that they can be successful globally.
Gordon Conkling, Lead Business Process Analyst, Welch's Food Inc.
Conkling has the ability to review existing supply chain processes from the family farmer at the core of Welch's to leveraging automation to maximize and expand supply chain operations. Conkling demonstrates leveraging current systems capabilities in unique ways to find cost effective and efficient ways to meet the changing and business needs of Welch's family of farmers and customers. He is committed to a lower total cost of ownership by avoiding major capital project investment for a "new" solution, minimal data, shorter ramp ups and less training, delivering desired outcomes quickly.