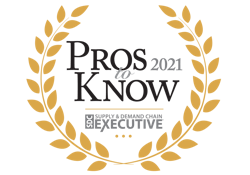 Supply & Demand Chain Executive is accepting nominations for its 21st annual Pros to Know award. The Pros to Know award recognizes outstanding executives whose accomplishments offer a roadmap for other leaders looking to leverage supply chain for competitive advantage.
The deadline for submissions is Friday, December 4, 2020. At this time, the deadline will not be extended.
To preview a PDF copy of the nomination form for review, please click here. All official entries must be submitted in full electronically. Entries that are incomplete, late or not submitted through the link will not be accepted. Anything that is provided in the application may be used in print.
To submit for the 21st Supply & Demand Chain Executive Pros to Know award, please click here.
More information or questions can be directed to assistant editor Mackenna Moralez at mmoralez@acbusinessmedia.com or editor-in-chief Marina Mayer at mmayer@acbusinessmedia.com.