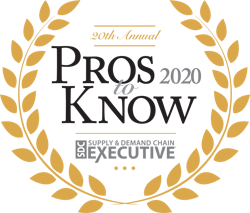 Supply & Demand Chain Executive revealed the 20th annual Pros to Know listings.
This annual award recognizes professionals for their accomplishments in leveraging the supply chain industry for competitive advantage.
The Provider Pros to Know is a listing of individuals from a software firm or service provider, consultancy or academia who helped their supply chain clients or the supply chain community at large prepare to meet the significant challenges in the year ahead. This year's list includes nearly 200 qualified Pros to Know.
The Practitioner Pros to Know is a listing of exceptional corporate executives at manufacturing and non-manufacturing enterprises leading initiatives to help prepare their companies' supply chains for the significant challenges in the year ahead
To see the entire list of Pros to Know, please click here. Featured recipients are as follows:
2020 Provider Pros to Know
Rylan Hamilton, Co-Founder and Co-CEO, 6 River Systems
As the co-founder and co-CEO of
6 River Systems,
Rylan Hamilton leads corporate and recruiting functions and is dedicated to building a team that's smart, nimble and effective. His experience spans robotics, technology, startups, sales, client services and global supply chains. Hamilton is well-known for seeking out challenges and "getting it done" by managing teams to the best of their abilities and working across organizations. He maintains a passion for mentoring, developing and retaining winning teams, all of which he does at
6 River Systems.
Fiona Lowbridge, Vice President of Client Success, ALOM
With 22 years of experience planning and implementing supply delivery programs, Fiona Lowbridge is an integral member of ALOM's operations management team. In her role as vice president of client success, she is responsible for developing innovative, technology-driven solutions, including supplier relationships and ensuring that all stakeholder objectives are being achieved. Lowbridge is a member of "How Women Lead," a San Francisco-based organization dedicated to promoting the voices of all women and propelling their leadership impact forward. She also serves as a mentor, advocate, speaker and panelist at How Women Lead events and workshops.
Lisa Dolan, Vice President Supply Chain Planning, ALOM
After being named 2019's Pro to Know of the Year, Lisa Dolan has continued implementing breakthroughs in service and technology innovation along with industry advocacy. In the last year, Dolan joined the board of the
Women in Manufacturing (WiM
) Silicon Valley chapter, where she is a voice for advocacy to increase the number of women entering manufacturing as a career choice and increase opportunities for leadership and professional development. Meanwhile, she continues to excel in conceptualizing and implementing new solutions to solve real-world supply chain challenges for ALOM customers.
Dan Perlak, Vice President of Operations, Barcoding Inc.
Dan Perlak is a 15-year industry veteran that consistently evolves as a provider Pro to Know. In his role as vice president of operations at
Barcoding Inc.,
he has implemented company-wide processes and systems that help both internal and external customers cut costs, generate cash and improve the customer experience. Over the last year, Perlak has worked with the
Barcoding
team on coordinating several research initiatives that culminated in a comprehensive resource guide to Android migration. Perlak and his team are also readying the industry for the modernization opportunities migration brings. With this opportunity, he has helped customers and partners in the supply chain community and beyond prepare for a change that will remain top of mind in 2020.
Ken Currie, Vice President of Business Development,
Barcoding Inc.
With nearly two decades of experience, Ken Currie has held numerous positions for leading technology companies that have helped him to acquire a multi-faceted view of the industry in business development, sales and account management. As the vice president of business development for
Barcoding Inc.,
he leads the development of business and strategic partnerships that help the company deliver best-in-breed mobile solutions. Additionally, he serves as a member on the board of advisers for eQuip!, a provider of enterprise asset management solutions.
Jason Vincelette, Director of Product and Business Management for North America, Basware
Jason Vincelette has led the complete procure-to-pay product management for global SaaS companies for more than 15 years. As director of product and business management for
Basware,
he serves as product liaison, charged with maintaining a product roadmap for e-procurement, e-invoicing and AP automation initiatives that delivers 100% visibility for
Basware
customers. He does so by gathering critical insights from customers and the sales enablement teams that he then deconstructs and delivers to the product management and research and development functions. Vincelette also possesses a combination of supply chain experience that few can tout—depth in all aspects of the spend management lifecycle, from development through commercialization, plus robust product management expertise. This dual mindset allows him to gather, synthesize and translate industry trends and customer needs quickly and effectively, ultimately contributing to a more strategic supply chain.
David Landau, Chief Product Officer, BluJay Solutions
With 25 years of supply chain experience focused on the creation of product strategies, strategic messaging and pipeline development, David Landau understands the logistics solutions that companies need to solve their supply chain challenges. He maintains experience and innovative perspective, guiding the product strategy, innovation and execution to help thousands of companies in achieving supply chain excellence. His product vision includes driving collaboration among companies and partners to strengthen global supply chain networks and provide data solutions that continue to push the industry forward.
Dave Whitlock, Strategic Account Manager, B-Stock Solutions
On a daily basis, Dave Whitlock continues to deliver reverse supply chain support to today's largest companies by providing data-driven strategy for B2B marketplaces. Since joining
B-Stock Solutions
in 2017, Whitlock has immersed himself in providing solutions for the company's largest mobile customers. Under his guidance, these marketplaces now allow the retailer to increase pricing on trade-in and excess mobile devices while ensuring risk aversion, brand protection and a controlled channel for how the devices enter the secondary market. Whitlock works hard to ensure the business buyers have good experiences purchasing from marketplaces, being the go-to for all B-Stock's top mobile buyers.
Ed Bowersox is a long-time industry leader with extensive supply chain and manufacturing experience. He plays an important role in leading global supply chain integration and accelerating innovation in the field of logistics as chief executive officer at
DSC Logistics.
His collaborative, inclusive leadership style and vision unites talent from both companies across the world to integrate solutions and activate customer value. Bowersox has also championed projects to pilot and implement applications of technology, engineering, systems and solutions across DSC's nationwide network.
Mike Frank, Senior Director of Business Development, Jarrett Logistics
Mike Frank, senior director of business development for Jarrett Logistics, maintains over 30 years of experience ranging from parcel operations management with Airborne Express and
DHL Express
to custom supply chain solutions. He constantly exceeds corporate service, image and productivity key performance indications, making his service center and district among
DHL's
top performing locations nationwide. Frank has also been a mentor to many at Jarrett, providing them with guidance and positive feedback. He continues to bring a unique blend of operational experience, a creative vision for improvements and an integrity driven sales process to ensure new clients are comfortable with their decision to partner with Jarrett.
Anne Robinson, Chief Strategy Officer, Kinaxis
As
Kinaxis'
chief strategy officer, Anne Robinson is responsible for accelerating the company's strategy development to add further value to customers. She and her team collaborate closely with customers, external stakeholders and the rest of the senior executive team to drive the strategic roadmap, thought leadership and identify emerging technologies and new industry opportunities. Robinson has led an integrated strategic planning process for the company that surfaced the Top 5 trends facing supply chains in the years ahead. When she is not working with
Kinaxis,
she regularly speaks at universities, serves on boards of academic programs and partners on research opportunities.
As the founder, CEO and chief technologist of
Loren Data Corp.,
Todd Gould has been designing solutions for the U.S. government to be integrated into the FACNET system. Gould has developed the business model for
Loren Data
to create a new paradigm for all users of EDI standards to become a HUB in the traditional HUB-Spoke model, enabling easier development of programs for the new HUBs to reach down-channel in their own supply chains. In addition to his work with
Loren Data,
Gould is on the board of directors of X12, the governing body for EDI Standards and is a frequent speaker on several supply chain topics.
Scott Dever, Regional Director, OMNIA Partners
Scott Dever maintains over 30 years of leadership experience in transforming procurement organizations for some of the world's largest organizations. He has helped establish and lead the first indirect sourcing BPO that operated on a pure gainshare basis in the U.S. market, and has built a sourcing consulting practice for a top P2P consultancy. In addition, Dever's passion is directed toward helping F1000 companies optimize implementation of their adoption of group purchasing to enhance business performance and optimize resource utilization.
Dustin Cochran, Managing Director – West Region,

OMNIA Partners
Dustin Cochran has worked in the procurement space for most of his career, bringing a diverse range of experience in the private and public sectors in companies both large and small. As the managing director for the West region at
OMNIA Partners,
he works closely with procurement and finance leaders supporting them through their goals and benefit realization. He leverages his experience and background as well as the purchasing power of 1,200 member companies to deliver cost-savings and organizational value to these companies. In his role, he helps organizations achieve best-in-class pricing and ongoing category management while freeing up resources to work on other strategic objectives.
Robert Mietus, Managing Director – Central,

OMNIA Partners
Robert Mietus has managed over $5 billion in initiatives and identified over $1 billion in cost reductions and value improvements from supply chain strategies to conduct global strategic sourcing initiatives in over 50 countries. He works with members of
OMNIA Partners
to deliver on their organizational goals, implementing a governance and reporting structure to see continuous improvement process to keep the program delivering value over time. When Mietus is not with his clients, he is contributing to the advancement of the profession as president of the Institute of Supply Management (
ISM
) in Chicago, focusing on leadership to help ISM-C members through certification, networking, mentorship and career advancement and excellence.
Ara Arslanian, Senior Vice President of the Private Sector,

OMNIA Partners
Ara Arslanian has helped lead the growth of
OMNIA Partners
through his leadership by continuing to provide leveraged agreements and category management to support its members. Arslanian has guided the development of programs aimed at creating tremendous value to members, giving them confidence in knowing that their interests are best being served. In addition, he makes it a point to leverage his background in distributed goods and industrial MRO to provide "hands-on" support and strategic guidance, striving to see indirect spend management through the lens of a practitioner.
2020 Practitioner Pros to Know
Hannah Kain, President and CEO, ALOM
Hannah Kain has been recognized as a Pro to Know for the last six years. In addition to leading ALOM as president and CEO, she has made an impact on the supply chain by being an industry leader. Kain understands the seriousness of the talent gap facing the industry, and is personally involved in advocating career opportunities through ALOM membership and support of several industry groups. She continues to host events and open houses at ALOM for student groups, and speaks on industry panels nationwide promoting career opportunities in supply chain.
With more than 25 years of experience, Michael Field continues to serve as chief executive officer of
The Raymond Corporation.
He is passionate about furthering Raymond's mission of solving customer challenges in the supply chain and logistics industry with leading technology solutions. Throughout his career, Field has been able to listen to customers, implementing their feedback into future solutions to help them succeed. In his position, he continues to coach his team to not only understand customer concerns, but to also solve them. Field has received several U.S. patents for creating solutions to material handling problems, such as palletized load wrapping and dynamic vibration control systems.
Vish Putcha, Senior Manager Strategy of Supply Chain, Walmart Inc.
Throughout his career, Vish Putcha's supply chain experience has varied, whether it be working in logistics, transportation, last mile or sourcing positions. His pragmatic approach to solving problems enables him to be an innovator. He consistently finds new solutions to problems, currently holding 25 patents in the supply chain space—one of which helped transform scheduling and capacity issues. In addition to his role as senior manager strategy of supply chain with Walmart, Putcha teaches supply chain courses at the
University of Arkansas
and mentors entrepreneurs.
2020 Provider Teams Pros to Know
CAI Logistics Team, Yasir Hasan, Jacob Leddy, Vladimir Polukeev, Amber Caron
CAI Logistics has been refocusing on customer service, offering availability, willingness and a "no problem is too big" attitude for customers in today's markets. The team addresses the need for more high-touch attention by providing customers with above-and-beyond personalized service, understanding that their role is more of an art than a science. The flatbed logistics team also focuses on anything that exceeds the size capacity of a traditional container and needs to be loaded or unloaded by crane or forklift.
Jabil Healthcare Team, Joe McBeth, Chad White, Keith Lapinski, Makarand Vyas, Mike Fagan, Robert Quinlisk, Robyn Ritche, Yan Le Derf, Jennifer Foster, Erin Morris
During the beginning of Jabil's 2020 fiscal year, its global supply chain team spearheaded a thought leadership initiative to specifically address the effects of these market trends on its customers. In this program, they address digital disruption and advise how customers will need to adopt more agile product management methodologies in order to retain and grow market share. Now more than ever, the team believes that healthcare companies need to adopt more thoughtful product development and supply chain life-cycle management practices to not only survive, but also grow and defend their market share.
Companies in this article