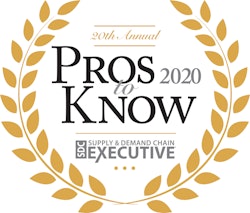 Supply & Demand Chain Executive, the executive's user manual for successful supply and demand chain transformation, is pleased to announce the 20th annual listing of the 2020 Pros to Know in the supply chain industry.
The Pros to Know Awards recognize supply chain executives, and manufacturing and non-manufacturing enterprises, that are leading initiatives to help prepare their companies' supply chains for the significant challenges of today's business climate. This year's list includes more than 200 individuals from software firms and service providers, consultancies or academia, who helped their supply chain clients or the supply chain community at large prepare to meet these challenges.
"The supply chain profession is the most exciting it's ever been. With cutting-edge technologies designed to help the industry run smoother, easier and safer, coupled with professionals leading the charge for change, innovation and sustainability, it's an exciting time to be in the supply chain industry," says Marina Mayer, editor-in-chief of Supply & Demand Chain Executive. "These Pros to Know are the best of the best in their industry, and I look forward to seeing how they continue to revolutionize today's—and tomorrow's—supply chains."
The April issue of Supply & Demand Chain Executive will feature more detail on many of these honorees, including the name of the Pro of the Year. Here are this year's winners:
Provider Pros to Know
Stephanie Richelieu Stagger, 3Gtms
Rylan Hamilton, 6 River Systems
Russ Miceli, A. Duie Pyle
Frank Granieri, A. Duie Pyle
Arnaud Morvan, Aera Technology
Doug Markle, Allocation North America, Inc.
Roger Layette, Allocation North America Inc.
Fiona Lowbridge, ALOM
Lisa Dolan, ALOM
Evan Quasney, Anaplan
Sivakumar Lakshmanan, Antuit
Nick Darmanchev, Archerhub
Danny Shields, Avetta
Paul Deuchar, Avnet
Dan Perlak, Barcoding Inc.
Ken Currie, Barcoding Inc.
Jason Vincelette, Basware
David Peterson, Beltrees Consulting
Chet Taff, Beltrees Consulting
David Landau, BluJay Solutions
Yamini Vellore, Blume Global
Dave Whitlock, B-Stock Solutions
Lydia Di Liello, Capital Pricing Consultants LLC
Karun Alaganan, Chainalytics
Bryan Wyatt, Chainalytics
Bill Mrzlak, ChainSequence Inc.
Scott Reid, CHEP
Andrew Grellman, CHEP
Paola Floris, CHEP Canada
Derek Rickard, Cimcorp Automation Ltd.
Bradyn Kelly, Cimcorp Automation Ltd.
Mahesh Veerina, Cloudleaf
Mitch Porche, CMX (ComplianceMetrix)
Steve Cox, Command Alkon
Emily Branum, Command Alkon
Ron Haney, Commonwealth Supply Chain Advisors
Drew Eubank, Commonwealth Supply Chain Consultant
Dan Clark, Kuebix, a Trimble Company
Jon Kirkegaard, DCRA Inc.
Bill Harrison, Demand Management Inc.
Ed Bowersox, DSC Logistics
Doug Waggoner, Echo Global Logistics
Peter Wetherill, Efficio
Blake Schnorf, Elemica
Arun Samuga, Elemica
David Cahn, Elemica
Melonee Wise, Fetch Robotics
John Flynn, Fleet Advantage
Mathew Elenjickal, FourKites Inc.
Al Girardi, GEP
David Commiskey, GlobalTranz
JJ Lewis, GlobalTranz
Abir Thakurta, Haverty Furniture Companies Inc.
John Conte, Holman Parts Distribution
Jonathan Wright, IBM
Jason Chester, InfinityQS International Inc.
Hannah Testani, Intelligent Audit
Paul Reynolds, Ivanti Supply Chain
Mike Frank, Jarrett Logistics
ElMarie Hugo, Blue Yonder
JoAnn Martin, Blue Yonder
Anne Robinson, Kinaxis
Pia Jala, Labelmaster
Jay Johnson, Labelmaster
Ryan Chan, LLamasoft
Kobe Ding, LLamasoft Inc.
Camilo Orbegozo, LLamasoft Inc.
Madhav Durbha, LLamasoft Inc.
Scott Fletcher, LocatorX
Karin Bursa, Logility Inc.
Allan Dow, Logility Inc.
Mark Balte, Logility Inc.
Henry Canitz, Logility Inc.
Ken Fleming, Logistyx Technologies
Todd Gould, Loren Data Corp.
Dante Fornari, Magnate Worldwide
Steven Bowen, Maine Pointe
Adam Kline, Manhattan Associates
Joe Juliano, MercuryGate International
Martin Verwijmeren, MPO
Roger Mayerson, NGC Software
Fred Isenberg, NGC Software
Mark Burstein, NGC Software
Ian Hess, Nolan Transportation Group
Stephen McIsaac, Nolan Transportation Group
Yosra Musa, OCRC
Scott Dever, OMNIA Partners
Dustin Cochran, OMNIA Partners
Ara Arslanian, OMNIA Partners
Robert Mietus, OMNIA Partners
Neil Soni, Omnichain
Diane Sullivan, Omnichain
Joe Bellini, One Network Enterprises
Greg Brady, One Network Enterprises
Michael Noble, Open Sky Group
Alan Prillaman, Open Sky Group
Pawan Singh, Open Sky Group
Kristen Daihes, Opex Analytics, a LLamasoft Company
Alex Ryu, Opus9
David Freed, Pace Harmon
Eshani Deliwala, Pace Harmon
Vasil Hlinka, Pace Harmon
Hanko Kiessner, Packsize International
Matt Yearling, PINC
Eric Bachrach, Plantensive, A Vaco Company
Derek Cesarz, Plantensive, A Vaco Company
Amanda Bohl, Primus Intellectual Solutions LLC
Shaun Phillips, QAD DynaSys (a division of QAD)
Stephen Dombroski, QAD Inc.
Wayne Slossberg, QuestaWeb Inc.
Bruce Welty, Quiet Logistics
Richard Martin, Requis
Gary Jones, River Rock Advisors
Hans Thalbauer, SAP
Franz Hero, SAP
James Lee, SAP Ariba and SAP Fieldglass
Pat McCarthy, SAP Ariba and SAP Fieldglass
Mike Stein, Signode
Ryan Manero, Slync.io
Raj Patel, Slync.io
Jagadeesh Aileni, Slync.io
Prasad Lele, Softwell Inc.
Asena Yosun Denizeri, Solvoyo
Brian Broadhurst, Spend Management Experts
Rich Rosario, Spend Management Experts
Tom Flynn, SpendMend
Gary Griffith, Spinnaker
Paul Gifford, Spinnaker
Patrick Buellet, Symphony RetailAI
Dheeraj Shah, Tata Consultancy Services
Grant Taylor, Taylor Logistics Inc.
Bill Denbigh, Tecsys Inc.
John Reichert, Tecsys Inc.
Sarah McMullin, Tecsys Inc.
Nancy Pakieser, Tecsys Inc.
Doug Niemeyer, TEKLYNX International
Jenna Wagner, TEKLYNX International
Marisa Brown, The American Productivity & Quality Center (APQC)
Omer Abdullah, The Smart Cube
Brian Hudock, Tompkins International
Tony Del Cid, Tompkins International
Robert Barnes, TradeIX & The Marco Polo Network
John Richardson, Transportation Insight
Jim Taylor, Transportation Insight
Todd Benge, Transportation Insight
Veronique D'ambrosi, Trax
Jason Reardon, Trax
Dimi Kurtti, Trax
Tony Viaes, Trax
Craig Stewart, Trax
Steve Beda, Trax
Chris Zingrebe, TrumpCard
Paul Noble, Verusen
Michael Maris, Zebra Technologies
Mark Wheeler, Zebra Technologies
Brad McBride, Zero Down Supply Chain Solutions
Practitioner Pros to Know
Hannah Kain, ALOM
Vaibhav Jain, Danfoss Industries Pvt. Ltd.
Glen Wegel, Kitchen Cabinet Distributors
Wendy Mannon, Merck Animal Health
Mathi Gurusamy, Mobilogix
Daniel Stanton, Mr. Supply Chain
Dana Magliola, North Carolina Dept. of Transportation - Office of Logistics + Freight
Brian Kirkpatrick, P&G
Dawn LaPlaca, Penske Logistics
Lorcan Sheehan, PerformanSC Supply Chain
Mika Majapuro, Railinc Corp.
Pat Nehlsen, Regal Beloit
Cheryl Wheatley, Schneider
Mike Field, The Raymond Corporation
Sheri Hinish, The Supply Chain Queen
Nare Thupana, Tigap(Pty)Ltd
Tugba Serez, Unilever
Scott Ladner, Carolina Handling
Vish Putcha, Walmart Inc.
Team Pros to Know
Avnet Velocity
CAI Logistics
Holman Business Services
Jabil Healthcare
UPS Customer Solutions
Ware2Go


Companies in this article