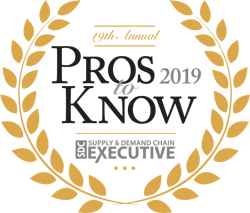 Supply & Demand Chain Executive, the executive's user manual for successful supply and demand chain transformation, is pleased to announce the 19th annual listing of the 2019 Pros to Know in the supply chain industry.
The Pros to Know Awards recognize supply chain executives, and manufacturing and non-manufacturing enterprises, that are leading initiatives to help prepare their companies' supply chains for the significant challenges of today's business climate. This year's list includes more than 200 individuals from software firms and service providers, consultancies or academia, who helped their supply chain clients or the supply chain community at large prepare to meet these challenges—and more than 40 Practitioner Pros, who do the same within their own companies.
"Every year we receive more submissions from outstanding supply chain leaders. It's evidence of the growth in the supply chain profession as well as the importance of the profession within companies. Supply & Demand Chain Executive congratulates the 2019 Supply & Demand Chain Executive Pros to Know recipients. Our Pros to Know listing showcases the leaders and innovators shaping the profession and making substantial impact on their companies," says John Yuva, editor for Supply & Demand Chain Executive. "We commend this year's recipients for their achievements in supply chain and for paving the way for the next generation of exceptional supply chain leaders. This year's recipients embody the commitment to transformative supply chain tools and processes, earning these individuals a rightful place in this year's Pros to Know listing."
The March issue of Supply & Demand Chain Executive will feature more detail on many of these honorees, including the name of the Pro of the Year. Here are this year's winners:
Providers Pros to Know
Joshua Blinick, 3rdwave/Blinco Systems Inc.
Tina Andrews, 4SIGHT Supply Chain Group
Jerome Dubois, 6 River Systems
Frank Granieri, A. Duie Pyle
Ryan Kirklewski, Accelogix
Douglas Markle, Achilles
Phil Marlowe, Acuitive Solutions
Kaushal Dave, Aera Technology
Trevor Read, Agistix
Bill Aldridge, Allport Cargo Services USA
Lisa Dolan, ALOM
Hannah Kain, ALOM
Aram Mazmanian, Analytic Consulting Solutions
Curt Cote, Analytic Consulting Solutions
Matthew York, Ardent Partners
Christopher J. Dwyer, Ardent Partners
Stefan Reidy, Arviem AG
Roch Gauthier, Aspen Technology Inc.
Jason Averill, Avercast LLC
Robert Cowan, Avnet
Sami Peltonen, Basware
Autumn Vaupel, Beeline
Santhosh Srirambhatla, Blue Ridge
Uwe Weiss, Blue Yonder
Bobby Harris, BlueGrace Logistics
Adam Blankenship, BlueGrace Logistics
Jake Barr, BlueWorld Supply Chain Consulting
Pervinder Johar, Blume Global
Eric Strafel, Boeing
Atif Siddiqi, Branch
Michelle Vazquez, B-Stock
Lisa Penn, B-Stock
Jennifer Wehrmaker, B-Stock
Nicholas Couture, C3 Solutions
Tim Chiu, CBX Software
Kelly Hahn, Censeo Consulting Group
Christy Fortin, Censeo Consulting Group
Stephen Bartolotta, Chainalytics
Erik Diks, Chainalytics
Chris Keller, Chainalytics
Bill Mrzlak, ChainSequence Inc.
Derek Rickard, Cimcorp
Bill Michels, Chartered Institute for Procurement & Supply (CIPS)
Phil Ramsey, Command Alkon
Ed Rusch, Command Alkon
Kristina Manganella, Comprehensive Logistics Co. Inc.
Dan Bebout, Convey
Bill McCouch, Corcentric
Raja Hammoud, Coupa
Chris Pickett, Coyote Logistics
Greg White, Curo Global
Jon Kirkegaard, DCRA Technologies
Vijaya Rao, DeliveryCircle
Bill Harrison, Demand Management Inc.
Julien Nadaud, Determine Inc.
Charles Adams, DiCentral
David Morgan, DW Morgan Company
Nari Viswanathan, E2open
Doug Waggoner, Echo Global Logistics
Matt Taylor, ecUtopia
Waldo Saville, Efficio
Chris Abato, Elemica
Gary Neights, Elemica
Omar Nadi, Elemica
Michael Johnson, Elite Transit Solutions
Barry Norton, Equifax Inc.
Melonee Wise, Fetch Robotics
John Flynn, Fleet Advantage
Katy Jones, FoodLogiQ
Tom Tiede, Fortna Inc.
William King, Fortna Inc.
Roger Counihan, Fortna Inc.
Michael Massetti, Gartner
Mudit Kumar, GEP
Michael Shaw, Global Council for the Advancement of Women in Procurement
Karen Conway, Global Healthcare Exchange (GHX)
Matt Houston, Global Healthcare Exchange (GHX)
Mark Millar, Global Supply Chain Ecosystems
Greg Carter, GlobalTranz
Ross Spanier, GlobalTranz
Mike Prochaska, Gopher Sport
Christopher Nadeau, Haversack LLC
Scott Brask, HighJump
Tim Hoj, Hoj Engineering
Bill Leedale, IFS
Eric Weisbrod, InfinityQS International Inc.
Lindsay Bryant, Insight Sourcing Group
George Rhymestine, Insight Sourcing Group
Melissa Irmen, Integration Point
Thomas Lobert, Integration Point
Steve Tian, Integration Point
Walter High, Invata Intralogistics
Farzad Dibachi, Inxeption Corporation
Sam Gonzales, Ivanti – Supply Chain Business Unit
Matt Angell, Jarrett Logistics Systems
Matt Wagner, Jarrett Logistics Systems
Danielle Manning, JDA Software
Anne Omrod, John Galt Solutions Inc.
James Kelly, JVKellyGroup Inc.
Rob Frew, Kibo
Harish Iyer, Kinaxis
Ken Evans, Konexial
Dan Clark, Kuebix
Rajesh Kalidindi, LevaData
Mark Davis, LexisNexis
Jeff Baker, Libra Consulting
Vikram Srinivasan, LLamasoft
Rafael Vasquez, LLamasoft
Dean Hully, LLamasoft
Rick Faulk, Locus Robotics
Karin Bursa, Logility
Josh Stephens, Logility
Allan Dow, Logility
Henry Canitz, Logility
Ken Fleming, Logistyx Technologies
Adam Kline, Manhattan Associates
Aaron Conway, Mezzanine Safeti-Gates Inc.
Felix Vicknair, Miebach Consulting
Mike Mortson, Mortson Enterprises Inc.
Mark Raffan, Negotiations Ninja Podcast
Johan Abadie, Neogrid North America
Roger Mayerson, NGC Software
Mark Burstein, NGC Software
Fred Isenberg, NGC Software
Nancey Watson, NL Watson Consulting Inc.
Barb Sexton, OMNIA Partners
Dustin Cochran, OMNIA Partners
Daniel Grant, OMNIA Partners
Ara Arslanian, OMNIA Partners
Pratik Soni, Omnichain Solutions
Akhil Oltikar, Omnics Inc.
Greg Brady, One Network Enterprises
Chad Kramlich, Open Sky Group
Chris Baird, OptConnect
Nick McLean, OrderDynamics
Simon Park, Pace Harmon
Will Kline, Pace Harmon
Jinlu Yuan, Pace Harmon
Donald Hoeppner, Paladin Associates
David Allais, PathGuide Technologies
Juliann Larimer, Peak-Ryzex Inc.
Matt Yearling, PINC
Codye Satterwhite, Plantensive Solutions Group
Maximiliano (Max) Bruni, PlumSlice Labs
Tom Flynn, PRGX Global
Jennifer Couch, PrimeRevenue Inc.
Justin Cramer, ProShip Inc.
Kyle Appell, Protiviti
John Costanzo, Purolator International
Terry Onica, QAD Inc.
Stephen Dombroski, QAD Inc.
Eric Dalby, QuestaWeb Inc.
Matt Barry, Quintiq
Chuck Hieronymi, Railinc
James Gellert, RapidRatings
Shannon Vaillancourt, RateLinx
Bryan Rabakon, RateLinx
Gordy Ferguson, RateLinx
Frank Locascio, RateLinx
Nate Endicott, RateLinx
Eric Rempel, Redwood Logistics
Utpal Patel, ReNi Analytics Inc.
Venkat Rajan, ReNi Analytics Inc.
Vidya Subramanian, Roambee Corporation
Patrick Coughlin, Ryder System Inc.
Hans Thalbauer, SAP
Hala Zeine, SAP
Michael Balduino, SAP Ariba
Darren Koch, SAP Ariba
Samarth Sarthi, SCA Technologies
Daniel Stanton, SecureMarking
Marcia Dorer, Silver Bullet Technologies
Neha Goel, Simplify Workforce
Kaitlyn Krigbaum, Source One
Elizabeth Skipor, Source One
Samantha Hoy, Source One
Paul Steiner, Spend Management Experts
Paul D'Arrigo, Spend Management Experts
John Haber, Spend Management Experts
Bernard Gunther, Spendata
Rob Jensen, Spinnaker
Oscar Salehi, Spinnaker
Joe Sacchetti, Spinnaker
Roddy Martin, Stellar Strategic Advisory Corp.
Kerstin Braun, Stenn Group
Sheri Hinish, SupplyChainQueen
Brad Hollister, SwanLeap
Patrick Buellet, Symphony RetailAI
Raphaël Bertholet, Symphony RetailAI
Chad Schrage, Sync Consulting Group
Scott Luton, TalentStream
Jeromie Atkinson, Tecsys Inc.
Doug Niemeyer, TEKLYNX International
Anne Kohler, The Mpower Group
Jim Kandilas, The Shelby Group
Omer Abdullah, The Smart Cube
Krenar Komoni, Tive Inc.
Roy Anderson, Tradeshift
Patrick Pretorius, TRANSPOREON Group Americas
Jay Wilson, Transportation Insight
Steve Beda, Trax
Craig Stewart, Trax
Prasad Gollapalli, Trucker Tools
Mike Gross, TrueCommerce
Brian Chan, UNEX Manufacturing
Pete Zimmerman, VAI
Len Pannett, Visagio Ltd.
Keith Phillips, Voxware Inc.
Brad McBride, Zero Down Supply Chain Solutions
Jessica Windham, Zero Down Supply Chain Solutions
Peter Mehring, Zest Labs
Practitioner Pros to Know
Nedra Dickson, Accenture
Danny Greenawalt, Advanced Drainage Systems Inc.
John Peterson, Baxter Planning
Scott Magee, Baxter Planning
Eric Strafel, Boeing
Ryan Peck, BOLD
Janak Shah, Celestica
Steven Schuman, Dg3
Kevin Purser, FitBit
Tobey Gonnerman, Fusion Worldwide
Sergio Retamal, Global4PL
Mike Prochaska, Gopher Sport
Tej Bonagiri, Intrigo Systems
Tushar Bhalla, Intrigo Systems
Prabhakar Prasad, Intrigo Systems
Jay Schmidt, Leupold & Stevens Inc.
Mike Bunge, Libbey Inc.
Greg Lehmkuhl, Lineage Logistics
Deborah Goerlach, Momentive Performance Materials
Helen Davis, RB LLC
Michele Thompson, Refinitiv
Jimmy Fitzpatrick, Ryder System Inc.
Heather Powell, SafeSourcing Inc.
Sean Henry, STORD
Michael Field, The Raymond Corporation
Elaine Videau, Tillamook County Creamery Association
Brian Tribble, Worldwide Express Global Logistics
Scott Cameron, ZF Group
Teams Pro to Know
Accenture
Sarasota County Government
Spinnaker Management
Supply Line Management
Companies in this article