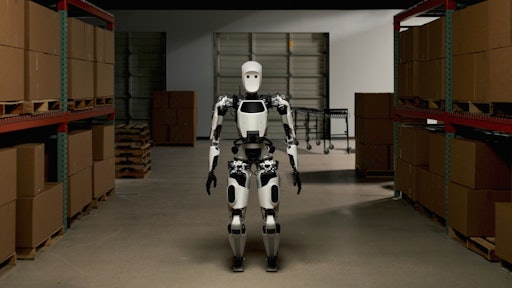 Apptronik
Apptronik unveiled Apollo, what is said to be the world's most advanced humanoid robot designed for friendly interaction, mass manufacturability, and safety.
"As labor challenges and employment trends continue to impact our economy, we need to fundamentally change the way we think about work, particularly in the warehouse and the supply chain," says Jeff Cardenas, co-founder and CEO of Apptronik. "People don't want to do robotic, physically demanding work in tough conditions and they shouldn't have to. Humanoid robots are not just an answer to this challenge, they are a necessity, and because of our deep robotics lineage, Apollo is uniquely positioned to quite literally step in and make an impact."
Key takeaways:
Apollo stands at roughly human size (5 foot 8 inches tall and 160 pounds in weight with the ability to lift 55 pounds), and maintains unique force control architecture for safe operation around people similar to a collaborative robot vs. a traditional industrial robot.
Apollo's design was pioneered by argodesign and includes digital panels on Apollo's face and chest for easy communication and a friendly, human-like countenance.
Apollo's design empowers users to decide whether Apollo is best used for their applications as a true bi-pedal walking humanoid, a torso that operates on wheels or one mounted in a stationary location.