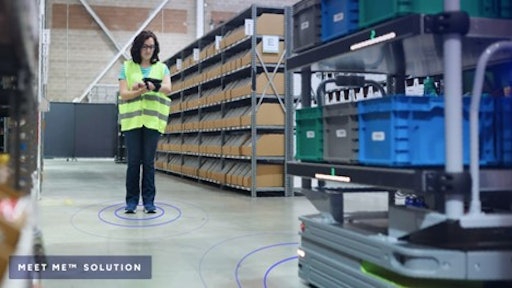 IAM Robotics
IAM Robotics launched a revolutionary new robotic solution to increase order fulfillment productivity.
IAM Robotics' new Meet Me solution coordinates humans and robots as a cohesive system, enabling warehousing, logistics and manufacturing operations to increase productivity, mitigate operational risk and scale without adding headcount.
"As consumer expectations continue to rise, every company is feeling the pressure to shorten the order fulfillment cycle and to do more with less," says Lance VandenBrook, CEO of IAM Robotics. "We saw a massive opportunity to put our decades of robotics experience and unique technology towards solving a real market pain point."
From IAM Robotics:
IAM Robotics'

unique Pyxis technology optimizes the order picking process by managing the work of autonomous mobile robots (AMRs) and human pickers as independent workflows. The company's proprietary algorithm directs human pickers via a wearable device to meet Lumabot AMRs at the next best picking location, eliminating downtime and increasing throughput in the fulfillment process. Lumabots feature the company's intuitive and patent-pending pick-to-light shelving, which reduces human error and improves picking accuracy.
"Our team's grit and expertise, coupled with our innovative and proprietary technology, make us uniquely poised to revolutionize the order fulfillment industry," says VandenBrook. "We are helping to solve a critical piece of the global supply chain puzzle. We're moving onward and upward together, and we're just getting started."