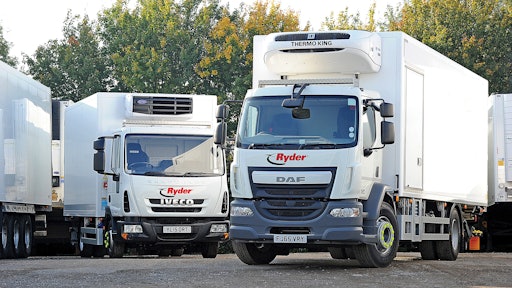 Miami, FL—Oct. 22, 2015—Ryder is refreshing its refrigerated rental fleet with the addition of 200 new Euro 6 trucks and vans, together with 90 new refrigerated box trailers. This latest investment supports the company's plan to further grow its business in the temperature-controlled sector, and maintain one of the most modern and broadest rental fleets in the UK.
The latest investment in new refrigerated assets includes DAF LF220 18t dual-compartment day cabs, Iveco Eurocargo ML75E16S 7.5t day cabs and Mercedes 3.5t Sprinter vans, high roof with chiller and frozen specifications. The investment also includes 90 refrigerated box trailers.
David Hunt, vice president and managing director Ryder Europe, said: "Ryder has an established position in the refrigerated rental sector with a wide selection of temperature-controlled vehicles from 3.5- to 26-ton trucks to tractors and trailers, and we offer a wide range of rental solutions from short-term rental to long-term contract hire.
"This latest investment in new refrigerated vehicles and trailers reinforces Ryder's ongoing commitment to growing our business in the temperature-controlled market by providing customers with greater choice and value to support their evolving business needs."
Companies in this article
Request More Information
Fill out the form below to request more information about
Ryder Refreshes Refrigerated Rental Fleet with 200 New Trucks and Vans, and 90 Trailers