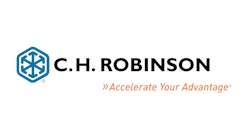 Eden Prairie, MN—July 20, 2015—C.H. Robinson introduces Freightview, a neutral, cloud-based transportation management system (TMS) software platform that cuts the time and money small and midsized businesses (SMBs) spend on freight shipping by streamlining quoting, booking, tracking and reporting.
Freightview was created to provide an innovative and valuable communication tool to SMBs that remain underserved by the TMS software market and use multiple less-than-truckload (LTL) transportation service providers. These businesses, despite producing almost half of the U.S. private nonfarm gross domestic product (GDP), typically ship freight using a manual, inefficient, labor-intensive process that ties up internal resources for hours each day.
When a shipper adopts Freightview as its TMS platform, it maintains direct relationships with its LTL providers while being able to compare shipment cost, transit time and service level, thereby eliminating the need to repeatedly log in to multiple LTL carrier websites. Early adopters of the online freight management software system said that Freightview increases employee productivity by reducing time spent on shipping activities, and arms them with the data needed to negotiate better rates, ensure accountability and uncover additional savings.
"Many shippers are growing quickly, but managing freight is slowing them down. We built Freightview so small and midsized business can be more competitive in today's marketplace," said Jason Roberts, co-founder of Freightview. "Freightview redefines a business' relationship with shipping as employees ship freight in a fraction of the time, and managers gain control and visibility of shipping operations."
Through an intuitive three-step startup process, Freightview allows a shipper to be completely set up with the system in 24 to 48 hours. Freightview facilitates automated communication between a shipper and its service provider utilizing a patent-pending application program interface (API) workflow process. The API eliminates the need to connect electronically with carriers through the intensive and drawn-out electronic data interchange (EDI) process.
To aid in the sales process, Freightview can easily integrate into a shipper's website and sales applications to provide shipping rates on Internet purchases or incorporate freight quotes into sales bids. New Freightview users are afforded a free 30-day trial period, followed by a standard $99 per location monthly fee.
"In this new era of cloud-based applications, APIs are the standard protocol that allow computing systems to interact with one another, thus allowing businesses to exchange information faster and easier," said Jordan Kass, president of Managed Services at C.H. Robinson. "This is the EDI of the future."
Companies in this article
Request More Information
Fill out the form below to request more information about
Freightview Streamlines Quoting, Booking, Tracking and Reporting