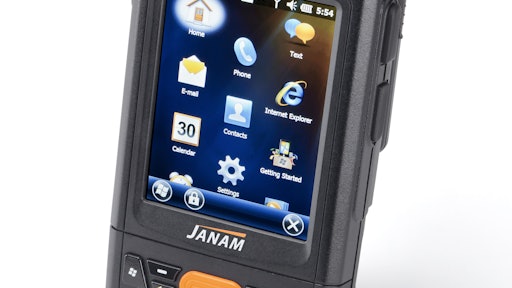 Woodbury, N.Y.—April 17, 2015—Janam Technologies LLC, a provider of rugged mobile computers that scan barcodes and communicate wirelessly, announced the launch of its XM2-RFID for Rail mobile computer. A rugged, capable, handheld radio frequency identification (RFID) reader, the XM2-RFID for Rail offers a quality read range and battery life, and according to the company, is the first fully integrated handheld computer to deliver the ability to read automatic equipment identification (AEI) RFID tags to the palm of the hand.
The XM2-RFID for Rail provides the power and performance required by mobile workers in freight and rail operations. With versatility and a lightweight ergonomic form factor, it is specially designed to read the AEI RFID tags required on all railcars in North America and widely used globally, allowing rail and intermodal companies to track and monitor equipment effectively. The 13-ounce XM2-RFID for Rail mobile computer reads AEI tags from at least 1 meter (3.3 feet) away, and after five hours of continuous use and more than 40,000 tag reads, a customer's unit recently still had 20 percent capacity remaining in its battery.
"With more than 1.3 million railroad cars in North America equipped with AEI RFID tags, the rail industry has been eagerly awaiting a device like the Janam XM2-RFID for Rail," said Harry B. Lerner, CEO of Janam.
Offering a range of features to address the demands of the challenging rail industry, the XM2-RFID for Rail is equipped with a user-addressable compass for use with transportation applications, a 3.2-inch color display, a Motorola SE4500 2D imager for decoding the hardest-to-read barcodes and support for Microsoft's Windows Embedded Handheld 6.5 operating system.
The XM2-RFID for Rail is sealed to IP64 standards and can withstand multiple four-foot drops to concrete.