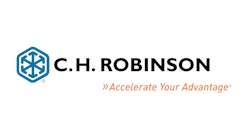 Eden Prairie, Minn.—Jan. 7, 2014—To capitalize on the rapid demand in the oil and gas industry, C.H. Robinson created Oil and Gas Solutions as a way to change how the industry views the global supply chain.
To accomplish this, C.H. Robinson positioned Kent Stuart, director of business development and a 25-year C.H. Robinson veteran, to drive C.H. Robinson's vertical focus. In addition, C.H. Robinson hired Corey Gear to bolster its existing oil and gas resources. Gear has over 20 years of experience in supply chain management and logistics working with Fortune 500 oil and gas companies. Recently, Gear worked for BDP International and Deutsche Post DHL where he established and led oil and gas verticals for each enterprise.
C.H. Robinson's Oil and Gas Solutions unites the company's global network, which worked with oil and gas companies for over 20 years, with Navisphere technology to develop world-class supply chains, and new outcomes that manage spend, change, risk and improve efficiencies. The growth in emerging markets has oil and gas companies seeking supply chain solutions that provide a competitive advantage through global visibility, scalability, and consistency across the upstream, midstream and downstream supply chains.
"Oil and gas companies are experts in their business, but as demand for their products increase, we are seeing the limitations that can occur with their fragmented supply chains," said Chris O'Brien, senior vice president at C.H. Robinson. "The opportunities in the oil and gas industry focus on supply chain management and logistics needs now more than ever."
By utilizing one of the largest ocean, air, project logistics and over-the-road carrier networks in the world, C.H. Robinson is helping oil and gas companies with their expanded pursuit of oil and gas into new strategic geographies. By eliminating the need of coordinating with an array of independent transportation suppliers and warehouses, C.H. Robinson removes valuable time from the supply chain.
Gaps in communication between the shipper, and its suppliers and customers can cause significant confusion and unnecessary costs. Navisphere, C.H. Robinson's global technology platform, eliminates these gaps, so shippers gain actionable business intelligence that drives continuous improvement and visibility to each shipment. No matter what type of transportation is being used, throughout the process, C.H. Robinson remains accountable for tracking and measuring compliance with shipper requirements.
"We are having great success leveraging our ability to improve processes, control work, manage spend, and ensure compliance with oil and gas companies, and their suppliers," said O'Brien. "Our team's knowledge and experience is instrumental as we continue to position C.H. Robinson Oil and Gas Solutions as a dominant supply chain solutions provider for the industry."
Companies in this article
Request More Information
Fill out the form below to request more information about
C.H. Robinson Transforms Oil and Gas Supply Chains