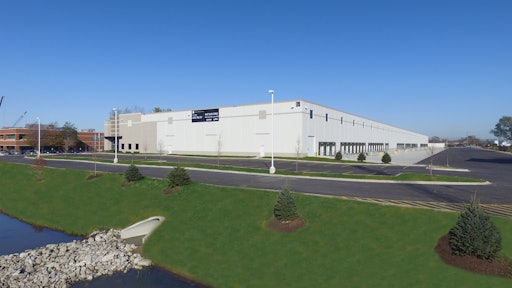 Chicago—Nov. 17, 2015—C.H. Robinson, a large logistics provider, announced that it will expand its business operations in Chicago by signing a seven-year lease for a 235,000-square-foot commercial office building and warehouse at 333 Howard Avenue in Des Plaines. Approximately 150 employees will be based at the new facility, which will open its doors in early 2016.
"Chicago is one of the most important markets in our global shipping network, thanks to its connectivity to Class I rail, ocean shipping, truck transportation and one of the world's leading airports," said Mike Short, president of global forwarding, C.H. Robinson. "This move will enable our customers to have better access to these transportation options and will position our company to build on our decade of rapid expansion in Chicago."
The Des Plaines deal comes on the heels of the company's announcement that it will build a three-story, 207,000-square-foot office building in Lincoln Park that will house more than 1,000 employees. C.H. Robinson is the largest logistics company in Chicago and will celebrate its 100th anniversary of operations in the city next year. The company roughly doubled its Chicago-based headcount since 2005, and its nearly 2,000 Chicago employees account for almost 15 percent of its global workforce.
The new facility will serve as a major hub for both North American and international freight consolidation operations. Everyday there are thousands of partial shipments flowing through the supply chain. Through C.H. Robinson's freight consolidation services, companies that book less-than-full loads of freight on trucks, ships and airplanes have their shipments packaged with other loads to create efficiencies in the supply chain.
"C.H. Robinson is a fixture in Chicago's transportation and logistics community, and we are pleased to work together on its continued commitment to growth in the region," said World Business Chicago President and CEO Jeff Malehorn. "The Chicago region is one of the nation's—and world's—leading supply chain hubs due to its unmatched access, making it an ideal location for C.H. Robinson's ongoing expansion."
C.H. Robinson's global forwarding division helps customers ship commercial freight internationally via its vast network of transportation providers. The division has more than 3,200 employees in 100 company offices in more than 30 countries. Domestically, C.H. Robinson's North American surface transportation division provides full-truckload, less-than-truckload, temperature-controlled, flatbed, and intermodal freight transportation services and logistics solutions to companies of all sizes, in a wide variety of industries.
"We signed our first lease for a Chicago-based freight consolidation facility 10 years ago and that building was 30,000 square feet," said Eric Shover, vice president of North America global forwarding, C.H. Robinson. "The fact that we just leased a facility with 235,000 square feet speaks to the immense growth we've been able to achieve in Chicago over the past decade and the aggressive plans we have for the future."
The Des Plaines facility will also serve as C.H. Robinson's in-house TSA Certified Cargo Screening facility (CCSF). This new facility will include 36,726 square feet of warehouse space equipped with state of the art screening technology. The TSA approved C.H. Robinson as a CCSF in April 2012. Since then, C.H. Robinson has provided a dedicated air freight screening team which ensures expeditious service to shippers. In addition, the facility is tied directly to Navisphere®, the company's global technology platform, allowing customers to track their freight before, during, and after the screening process.
The lease was executed with Liberty Property Trust which owns 50 buildings, offering approximately 13 million square feet of space in the Chicago/Milwaukee corridor. Property is concentrated throughout the O'Hare submarket, I-55 Corridor, the Aurora/I-88 submarket and the Minooka/Elwood/I-80 Corridor, Central DuPage, as well as in Southeastern Wisconsin.
"We are very excited about delivering our first O'Hare speculative redevelopment, and how quickly we were able to accomplish it," said Neal Driscoll, vice president and city manager, Liberty Property Trust. "The opportunity to grow our relationship with C.H. Robinson made it all the more rewarding."
Companies in this article