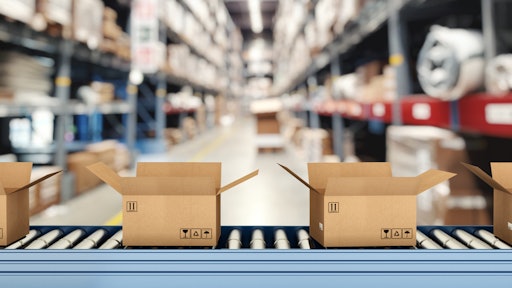 alphaspirit - stock.adobe.com
Walmart finalized plans to establish a 2.2 million square feet fulfillment center in Hancock County, Indiana. The project is expected to create up to 1,000 new jobs by the end of 2025.
According to Indiana Economic Development Corporation, the Bentonville, Arkansas-based company will invest approximately $600 million to construct and equip its new facility on approximately 204 acres at 5300 W. 500 N. in an unincorporated part of Hancock County north of Mount Comfort and south of McCordsville. The facility will provide additional online fulfillment capabilities for the company as it continues to meet increasing online demand from customers. At 2.2 million square feet, this facility will be Walmart's largest e-commerce fulfillment center in the U.S.
The new, state-of-the-art facility will allow Walmart to expand its e-commerce operations for both its own online inventory and recently-announced third-party fulfillment, Walmart Fulfillment Services, for vendors who hire the company to store, pack and ship items for customers. Construction is slated to begin this month, and the company expects to start fulfillment and distribution in the fall of 2022, reaching full operational capacity by spring of 2024. Walmart, which employs approximately 1.5 million associates nationwide including more than 41,000 in Indiana, will begin hiring in the spring of 2022 for positions in receiving, picking, packing, shipping and management.
"We're pleased to work with the Indiana Economic Development Corporation on this project and appreciate their support to help bring new development and jobs to central Indiana, which is a key market for Walmart," said Steve Miller, Walmart senior vice president, fulfillment operations. "We look forward to utilizing this fulfillment center to help meet increasing online shopping demands and ultimately serve our customers."
The Indiana Economic Development Corporation offered Walmart Fulfillment Services LLC up to $1.25 million in conditional tax credits based on the company's job creation plans and up to $4.75 million in conditional tax credits from the Hoosier Business Investment (HBI) tax credit program based on the company's planned capital investment in Indiana. These tax credits are performance-based, meaning the company is eligible to claim incentives once Hoosiers are hired and investments are made. The Hancock County Council and the Hancock County Redevelopment Commission approved additional incentives at the request of the Hancock Economic Development Council. Duke Energy offered additional incentives.
"It gives me a great deal of pride to see Walmart growing and expanding rapidly in the Hoosier state," said Indiana Secretary of Commerce Jim Schellinger. "As the Crossroads of America, we are perfectly positioned to support Walmart as they secure increasing customer demand and continue contributing to our state's economy, while providing new jobs to 1,000 Hoosiers in the process."
"We are very, very pleased that Walmart has found Hancock County, and the Mt. Comfort Road Corridor in particular, to be ideal for their operations," said Hancock County Council President Bill Bolander. "Both Hancock County and the Hancock Economic Development Council will continue to work with Walmart to ensure a smooth and successful launch and continuing operation of their facility with regard to workforce, infrastructure and overall economic development improvements within the county."