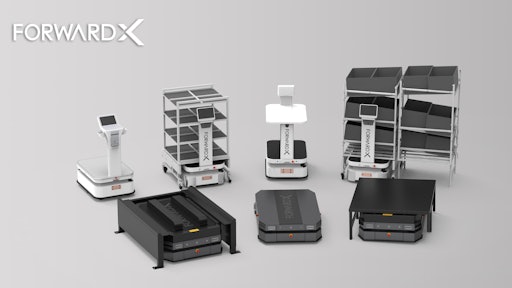 ForwardX
ForwardX Robotics announced it will offer Robots-as-a-Service (RaaS) options for its collaborative mobile robots. Whilst also offering outright sale and renting options, the RaaS subscription-based model aims to encourage supply chain operations to invest in innovation by allowing them to upgrade their facilities without the large upfront investment usually associated with automation projects.
"The pressure on supply chains to deliver is growing with every day that passes and we know how much of an impact our solutions can have on facilities and their processes," said Paul Qian, VP of Sales at ForwardX Robotics. "With our mission to empower operations to be at their best, introducing Robots-as-a-Service as an option is a no-brainer. Organizations have been going out of their way to keep the public satisfied during this time, so we want to make sure they have access to the best tools available."
ForwardX Robotics RaaS model will offer logistics and manufacturing facilities a number of automated material handling solutions aimed at improving core processes. The ForwardX FLEX and MAX solutions are designed to optimize goods movement across the receiving, putaway, replenishment, picking, packing and shipping processes in warehouses, as well as raw material delivery, WIP movement and finished goods movement in manufacturing plants.
"We know that the role of automation will continue to grow across the supply chain but investing upwards of $5 million on a system with limited flexibility just won't cut it in a post-pandemic environment," said Nicolas Chee, founder and CEO of ForwardX Robotics. "Our customers come to us looking for something better suited to their business and operational goals and we're determined to help them meet those goals. RaaS is the next logical step to better align us with the needs of the market."