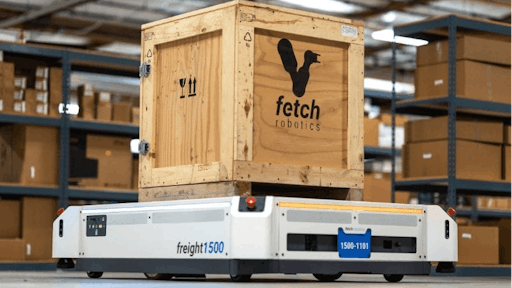 Companies are increasingly turning to robotics to gain competitive advantage in the supply chain, with adoption expected to rise from 34 to 73 percent over the next five years, according to a survey in the 2018 Material Handling Institute's annual report. The study identified that the most common uses for robotics in warehousing operations include tasks like receiving and putting away inventory.
Honeywell has taken note of the growing trend, and through a new partnership with Fetch Robotics, is helping it customers tackle the growing volumes of e-commerce orders.
By deploying Fetch Robotic's autonomous mobile robots, which operate alongside people to transport items without human guidance or fixed paths, in distribution centers, Honeywell Intelligrated's customers can increase productivity and boost labor efficiency.
"As staffing challenges and the continued growth of online shopping are pressuring supply chains, robotics can be an effective solution to help make large, integrated distribution centers more efficient," says Pieter Krynauw, president of Honeywell Intelligrated. "With this arrangement, we can provide our customers with a complete suite of fixed and mobile robotics solutions, backed by the expert systems integration, solutions development and reliable, 24/7 technical support they expect from us."
Honeywell Intelligrated previously announced its collaboration with Carnegie Mellon University to develop next-generation artificial intelligence and robotics technologies for distribution centers. The Fetch Robotics collaboration adds mobility capability to the portfolio of robotics solutions Honeywell is bringing to market.
Fetch Robotics offers a range of autonomous mobile robots (AMRs) that use a combination of LiDAR and 3D cameras—similar to self-driving car technology—to navigate unpredictable warehouse environments safely and accurately. In the event of an obstacle, these robots can adjust routes in real time, unlike automated guided vehicle systems, which depend on pre-programmed, fixed paths. This enables the AMRs to take on repetitive warehousing tasks that may otherwise require significant travel time between locations and transporting heavy loads. Fetch Robotics' solutions are also able to deploy and redeploy in just a single day without integration requirements or changes to infrastructure.
"We are committed to helping customers achieve their productivity goals by providing on-demand automation that enables a wide range of flexible and safe AMRs to be rapidly deployed," says Melonee Wise, CEO, Fetch Robotics. "We fully expect our relationship with Honeywell Intelligrated to help accelerate the adoption of our cloud robotics solution within the logistics and manufacturing verticals."
Companies in this article