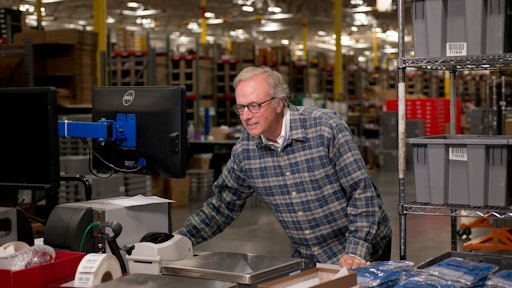 Over the past several decades, a trend toward robotics in the warehouse swept through the supply chain. But when Amazon acquired Kiva Systems in 2012, many logistics companies were left wondering what to do next.
That is when innovators such as Locus Robotics come into play.
Supply & Demand Chain Executive recently caught up with Locus Robotics chairman and founder Bruce Welty to learn more about his robots and how they are helping to shape the global supply chain.
Starting in the 1970s, Welty specialized in software for managing warehouses. In 2009, he shifted gears and founded Quiet Logistics, a company that used robots from Kiva Systems to reduce warehouse operating costs. But three years later, when Amazon acquired Kiva, cutting off Welty's robot supply, he began the journey to build his own robots.
At the time of Amazon's $775 million purchase, Kiva assured its customers that it would continue to sell robots to outside companies. But that did not happen. Since then, not only did Amazon use all of the autonomous warehouse vehicles Kiva produced, but also officially renamed the company Amazon Robotics in August 2015.
"When Amazon acquired Kiva, it put us in a spot where we decided we need to control that technology, so we started working on a new robot concept," says Welty. "We did that in 2013. Then, in 2015, we implemented it in our first facility and then started selling commercially in 2016."
That concept would break into two companies—Quiet Logistics, a warehouse logistics company that does e-commerce fulfillment, and Locus Robotics, which sells the robots.
Why robotics?
There a numerous reasons companies choose to implement robots into their facilities, including low cost, high productivity and minimal risk.
In regards specifically to Locus Robots, which work side-by-side with employees, Welty says the robots reliability and ease of use are another huge factor.
"They're fun to work with; Workers just love them, and training is super easy. We can train people in just minutes to use the system. We've taken something that is really very complicated and made it simple."
And though the advantages are great, thus far, the supply chain industry has been slow to embrace innovation such as robotics. Welty is not discouraged, however, as he believes the trend toward an automated warehouse will continue to rise for a number of reasons—most importantly due to a shortage of workers.
Year after year, companies are seeing high turnover rates in their warehouses and an inability to fill these positions. Jobs at fulfillment centers are labor-intensive and lack flexibility, leaving a limited number of people who are willing to work in a warehouse environment.
It's possible that automation could solve some of these challenges by reducing the number of workers required to operate a facility or by increasing the productivity of existing employees.
"We watched what Amazon did, and they loved the robot so much they bought the robot company and then they went and deployed 45 thousand robots. They've already come out and said that was the best acquisition they ever made. I think that's pretty strong validation if the No. 1 company in the industry is fully committed to using robots," Welty says. "We as a user of two different types of robots are very convinced that they're a tremendous advantage. So, what we're seeing is that a lot of companies are saying, 'All right, now it's time to do something.'"
Robots produced by Locus Robotics are mainly used for picking and putting away. An example of their use would be putting away purchases stock, such as the process of putting goods onto shelves and then picking up and taking the goods off the shelves.
Welty explained that the robots are not meant to replace human workers but to enable them.
"They are really human assist robots opposed to human replacement robots," he says. "We still rely on humans to do the complicated pieces of it, which are identifying something, grasping the item and placing it in the bin."
Locus Robotics also eliminates unproductive activities that workers do such as walking.
"We stream line the picking process to approach the theoretical limit on how quickly you can pick an item off the shelf, scan it and put it in the bin," Welty added.
Who is using them?
Right now Locus Robots mainly are used by e-commerce companies who ship goods bought online to consumers. They also are used for store replenishment, where robots replace items on the shelf as they are sold.
As e-commerce continues to gain traction, Welty is optimistic that the use of robotics also will continue to grow.
During the 2016 holiday season, Amazon, the largest e-commerce retailer in the world, employed 45,000 robots in some 20 fulfillment centers—a 50 percent increase from 2015, when the company had about 30,000 robots working alongside 230,000 humans.
A report released by Forbes in 2016 showed that e-commerce sales in 2014 made up 8.2 percent of retail sales in Asia-Pacific, 6.7 percent in Western Europe and 6.3 percent in North America. Forecasts suggest that by 2018, these figures will be 18 percent, 10 percent and 9 percent, respectively.
However besides within e-commerce companies, the use of robotics throughout the entire supply chain is relatively low, Welty says, adding about 80 percent of the warehouses in the world use zero advanced technology.
"The industry itself is a technologically poor industry," he adds. "Maybe some (use) software and portable computer terminal, but that is it. The 20 percent that do have automation, probably a sliver of them use robots. The number of robotic warehouses in (the United States) is probably under 100."
Welty says Locus Robotics continues to see a lot of interest in what they have to offer, however.
"We view this as an opportunity. It has to be one of the biggest opportunities today to try to automate these manual facilities."
But it is important to remember, robotics do not work in every warehouse. It greatly depends on the types of products you are trying to move.
"Certain velocities of products just don't make sense," Welty says. "They might be too big. They might be too bulky. They might be too long or tall. Then you might have products that just don't move fast enough. Then you might have products that ... like if you sold a line of cosmetics and you only had 100 different skews the robots wouldn't be that helpful to you. You could get higher productivity just doing it all manually."
Implementation
Right now, there are two types of robots in the world broken into two broad categories—goods to person and autonomous robot. The first category involves a robot grabbing a shelf, tote, pallet, etc., and bringing that to a human who chooses an item from said shelf. The robot then returns the shelf back to stock.
"It's a robotic system, but the robots are comp-lined to this big steel infrastructure," Welty explained. "That was state of the art maybe 10 to 15 years ago."
The second, more current method is a mobile autonomous robot, which moves around the warehouse, positions itself in front of a pick, and the human performs the pick. There are several types of robotics using this technology on the market in addition to Locus Robotics. Those leading the way (in alphabetical order) include:
Aethon – Tug
Balyo – AGV
BlueBotics – Ant
Clearpath – Otto
EiraTech – EiraBot
Fetch – Fetch robot
Grenzebach – Automatic Guided Vehicle System L1200S
GreyOrange – Butler
I Am Robotics – Mobile Picking Robot
inVia – inVia bot LD
Magazino – Toru
Omron – Mobile Robot LD
PlusOne Robotics – in development
Seegrid – Vision Guided Vehicles
Serva Transport Systems – Ray and Eve
Swisslog – CarryPick
Vecna – MHE
6 River Systems – in development
Additionally, there are many large companies developing autonomous mobile vehicles for use in their logistics operations, which are not for sale to the general public.
Customers interested in implementing robots in the warehouse will undergo a series of steps, beginning most likely with a facilities assessment like at Locus Robotics.
"We look at your movement history, and say, 'All right does our robot actually apply to this? Does it make sense to put it here?'" Welty says, adding Locus also invites companies to visit their facility, so they are able to make a judgement themselves.
The next step is creating what Welty calls a "pilot." During the pilot, Locus Robotics implement five robots into a company's system in a small corner of a warehouse. They then teach employees how to use it, giving customers a test run to decide if they like it.
"If you like it then you can buy it, and we can set up a roll out strategy to try to move the robots to the rest of your building in a methodical, disciplined way," says Welty. "We don't want to disrupt the client's business; we don't want to force them to make risky, sort of all in types of decisions. We want them to gradually, incrementally, add our robots to their operations as they see fit."
The initial implementation of robotics is unlikely to disrupt a company's work flow, but as employees learn to incorporate robots, a reevaluation of the warehouse space may be necessary.
Welty notes that when a company first implements a robot, they should not make any changes that would disrupt the current work flow or force employees to relearn how to do things.
"We want to educate them in how to incorporate the robots into their space. But then after they've learned how to use them, after the workers have grown accustomed to the robots, then they themselves come up with lots of ideas to improve operations, optimize work flow."
From there, incremental changes can be made—changes Welty says probably will never stop.
"Every day we get faster, and we think of clever things we can do to make the robots faster. That's the nature of the game, just constant improvement."
Put a price on it
Costs associated with robotics implementation in the warehouse can vary based on the number and type of robots, but it is without a doubt a large investment.
Though Welty believes Locus Robots "pay for themselves within about 18 months," the initial cost is somewhere in the "low millions."
"The simple way to put it is if you spend a million dollars on us, you'll save a million dollars over the next 18 months," he added.