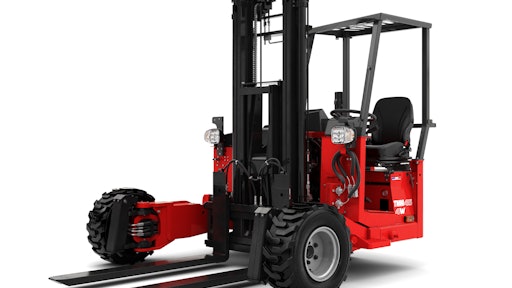 Manitou Group
Manitou has released two new truck-mounted forklifts with vertical masts to the North American Market. The TMM 45 rear-wheel steer and the TMM 45-4W four-way steer models are the company's new forklift releases.
"The new TMM 45 and TMM 45-4W four-way truck mounted forklifts deliver the best of both worlds: easy and effective to mount to a variety of trucks styles, and a robust and durable design to handle all types of materials," said Brian Rabe the product marketing manager for Manitou North America. "Truck-mounted forklifts are critical in providing drivers with a safe and effective tool to deliver materials, and we have a solution that delivers both excellent capacity capabilities while making it easy, comfortable and confident for the operator."
From Manitou Group:
These new rough terrain forklifts with a rated load capacity of 4,500 pounds are designed for truck mounting while featuring numerous heavy-duty features, such as rough terrain masts, chassis and tires.
The machine is perfect for off-road operation with 10-inches of ground clearance and the four-wheel steer model (TMM 45 4W) provides added versatility while carrying long loads.
The Manitou TMM models provide up to a 12-foot, 9-inch maximum lift height with a 63-inch outreach standard, or up to 96-inch outreach with optional telescopic forks. This allows for safe and effective one-side loading/unloading on truck beds using a strong extending linkage that provides a 40-inch outreach.
Adding telescopic forks to the standard package adds 31 inches of reach. Standard stabilizers are also included to ensure operators can handle the maximum lift capacity when unloading for efficient performance in any condition. These units blend capacity, stability and compactness into a potent package while maintaining a class leading short rear overhang when mounted on a truck.
Each new TMM truck-mounted mast forklift is available with a variety of standard features and options, including work lights, fork positioners, long load supports and telescopic fork extensions. The operator's station maintains Manitou's focus on operator comfort with ergonomic controls, a comfortable seat and excellent visibility to the working area, forks and the ground. The mast is designed for excellent visibility to the load, and is able to shift from side to side, and forward to back, for total ease of use and optimal load placement.