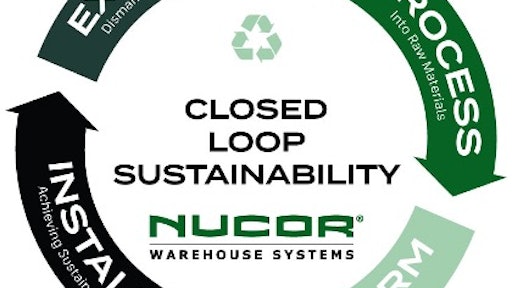 Nucor Warehouse Systems
Nucor Warehouse Systems announced its new corporate responsibility and sustainability initiative called Closed Loop Sustainability. This program from Nucor Warehouse Systems allows customers to find new ways to meet sustainability goals by reducing the need to source out new steel. When a warehouse rack needs to be replaced, this company can dismantle and recycle the existing rack and then create and install a new one.
"ProMat is always an event not to miss, and we are looking forward to discussing the Closed Loop Sustainability program amongst our other extensive warehouse solutions with show attendees," said Reed Reynolds, Commercial Director at Nucor Warehouse Systems. "Over the years, we've built the company to be a reliable partner for customers during every step of the warehouse process and we are proud to offer our Closed Loop Sustainability initiative as a part of the largest steel recycler in North America. We are always looking to the future and how we can ensure customers are receiving the highest quality products and services to be one step ahead of the competition."
The Closed Loop Sustainability program follows these steps 4 steps. Extract: dismantle existing/old rack. Process: melt old rack into raw material. Reform: produce stronger and safer rack. Install: closing the recycling loop and achieving sustainability.
Whether designing, engineering, manufacturing or building a warehouse from conception to completion, supplying solutions for platforms, AS/RS systems, overhead doors, insulated panels, metal building and more providing a single resource for any warehouse project.
When a warehouse needs to be retrofitted with rack that may be old, out of compliance or damaged,

Nucor Warehouse Systems

can dismantle and recycle existing rack and then use the material to re-engineer and install a new rack system, keeping all steps of the process under Nucor Corporation as the largest steel manufacturer in North America.