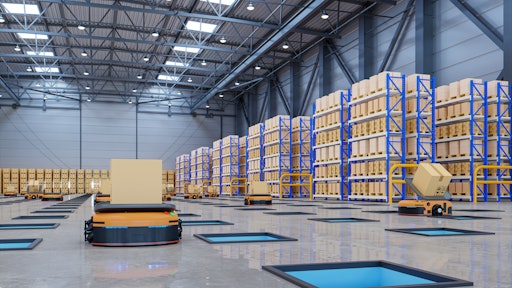 Vanit่jan/adobe.stock.com
Seegrid revealed expanded capabilities of their Palion AMRs at ProMat 2023. Seegrid Palion Lift and Palion Tow Tractor can now work in combination to load and unload carts with no human intervention neccesary.
"Expectations and supply chain pressures continue to become more demanding and complex, requiring more integrated material handling solutions. Seegrid's line of Palion AMRs is always evolving to support increasing needs throughout and across facilities," said Chief Sales Officer David Griffin. "Not only does this automation mean improved safety, reliability, and throughput, but through coordinated movements between Seegrid Palion AMRs, the business case for our customers gets even stronger."
From Seegrid:
Seegrid's

newest AMR, Palion Lift, brings together

Seegrid's

breakthrough 3D vision-based navigation technology with situational awareness capabilities to automate pallet movement.
Palion Lift autonomously transports material up to 3,500 pounds throughout customer operations, precisely and securely retrieving and placing palletized goods at heights of up to six feet for a complete, end-to-end solution for pallet movement.
The Palion Tow Tractor autonomously transforms horizontal material movement by tugging cart trains and other payloads up to 10,000 pounds, using proprietary autonomous navigation technology for safe delivery.
With new advancements in perception technology, Palion Lift is able to work directly with Palion Tow Tractor to load and unload carts, which has previously been a time-consuming and labor-intensive workflow.
The interoperability of

Seegrid

AMRs enables customers to optimize their existing workforce and improve operational efficiency with this expanded automation application.
The company's Palion AMR fleet has driven nearly 10 million autonomous miles in customer production environments.