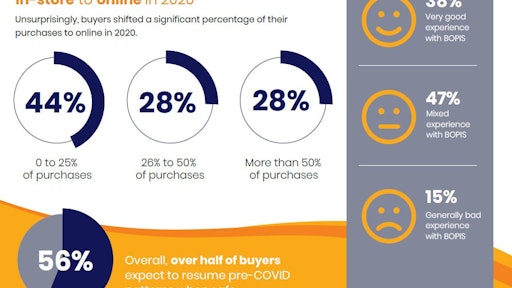 GreyOrange
GreyOrange released research from a survey of more than 2,000 consumers across the United States, UK, Belgium, The Netherlands and Luxembourg that reveals how product fulfillment impacts retail buying decisions and buyer loyalty across omnichannel retail. The goal is to capture buyers' experience with buy-online/pickup-in-store (BOPIS), their anticipated shopping behaviors post-pandemic, the role easy returns play in buying decisions and the importance of operating socially responsible fulfillment centers.
Buyers shifted a majority of 2020 purchases to online due to COVID-19.
More than half of buyers expect to resume pre-COVID buying patterns when possible.
Two-thirds of buyers have tried BOPIS.
BOPIS has room for improvement, as 62% report a mixed or generally bad experience.
A small number of delivery misses impacts buyer loyalty.
A challenging return process negatively impacts the buying decision.