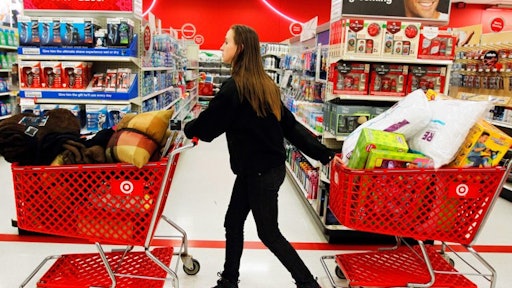 Target will be offering a "Skip the Line" mobile checkout this Black Friday with deals already becoming available three weeks before the coveted spending day.
According to MarketWatch, the service will allow customers to pay for their items with team members anywhere in the store using handheld devices. Workers will be located in the store's busiest departments.
"Skip the Line" technology mimics Walmart's "Check Out With Me" announcement that was made earlier this week, allowing customers to purchase items from store associates throughout various departments.
Previously, the retailer announced that it would offer free two-day shopping on nearly any purchase to help boost its e-commerce presence. The store has already published its Black Friday ad on its website, with deals available on televisions, video games and pressure cookers, MarketWatch reports.
Target will start offering deals on Thanksgiving morning and will be open at 5 p.m. until 1 a.m. on Friday. Stores will re-open at 7 a.m. the following day.
MarketWatch reports that gues who spend $50 online or in stores on Black Friday will receive a 20 percent discount that can be applied November 27 through December 8.