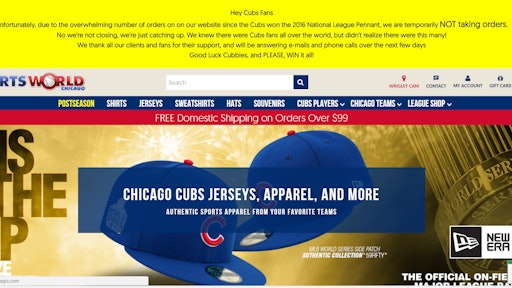 If there were scorers in e-commerce as there are in Major League Baseball, retailer Sports World Chicago would be charged with an error.
A spike in demand caused by the Chicago Cubs winning their first National League championship in 71 years prompted the retailer to stop taking online orders for the foreseeable future.
Sports World Chicago, No. 993 in the 2016 Internet Retailer U.S. Top 1,000, wrote on its website that it stopped taking online orders because it simply cannot keep up with demand. The retailer is located across from the main entrance to Wrigley Field, home of the Chicago Cubs, who have not won a World Series since 1908. Sports World Chicago's site did not crash and can still be browsed, but shoppers cannot add goods to a cart.
To read the full story, please click here.