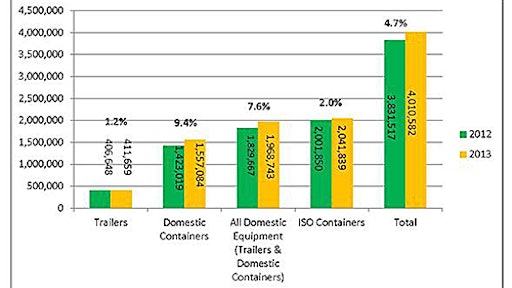 Calverton, Md.—Nov. 6, 2013—Total intermodal traffic grew in the third quarter of 2013 by 4.7 percent, year over year, attributable to gains across the board. Domestic container volume continued to lead intermodal growth, posting a year-over-year increase of 9.4 percent, and combined with a 1.2 percent boost in intermodal trailer volume for the same period, all domestic equipment experienced 7.6 percent year-over-year gains during the third quarter of 2013.
Also contributing to the increase in total intermodal traffic was a slight uptick in international volume, which posted a 2013 third-quarter gain of 2 percent over 2012. If jobs, consumer spending and/or the broader economy accelerate, a slow but steady growth trend is likely for the international market.
"For the tenth quarter in a row, domestic container volume flexed its muscles and outpaced international shipments driving the gains in total intermodal traffic," said Joni Casey, president and CEO of the Intermodal Association of North America (IANA). "It is also worth noting that the trailer segment grew in all three months of Q3, reversing three years of decline and contributed to domestic growth."
Third Quarter 2013 Intermodal Volume Comparisons
Q3 marks the first time seasonally adjusted domestic shipments exceeded international shipments. This milestone was achieved after a decade of domestic service improvement and five years of accelerated volume gains. A contributing factor was weak international container trade volumes during the recession followed by an inconsistent rebound.
Robust container volume growth drove the Southeast United States to post a double-digit increase in Q3 2013 of 11.3 percent over Q3 2012. The region performed well in every measure, but boasted an impressive 13 percent uptick in total outbound container traffic over Q3 2012.
The Southeast region led intermodal in the third quarter of 2013, boasting an 11.3 percent gain over the same period last year according to IANA's market trends data. Following immediately behind was the Northeast region, which posted an 8.3 percent gain compared to Q3 2012. The Midwest maintained its year-over-year Q3 hold on the largest percentage share of regional traffic with 28 percent.
Year-over-year intermodal marketing company (IMC) volume improved significantly in Q3, growing 5.7 percent as compared to 1.1 percent in Q2. Improving imports and transload volumes played a large role in the IMC business surge.
Intermodal Market Trends & Statistics is published quarterly by IANA, and is available on a subscription and individual copy basis.
Companies in this article