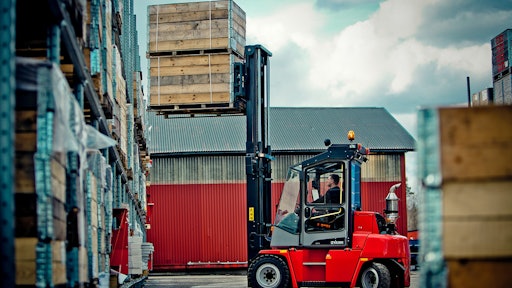 Helsinki, Finland—July 3, 2013—Cargo handling solutions and services provider Kalmar (of Cargotec), launched the DCF50-90 forklift truck, the latest in the series of light range of five-to-nine ton capacity machines. The new truck boasts several technological improvements designed to boost operational efficiency and provide the driver with a high level of comfort, for round-the-clock operations. It is the first in the new generation of light machines to be equipped with an SCR traction control system.
"This is without doubt the most comfortable and environmentally-friendly light truck Kalmar has produced to date," said Thomas Malmborg, Vice President, Kalmar Forklift Trucks. "The DCF50-90 is specifically targeted at customers who need industrial handling capabilities in very tough applications, such as wood, pulp, paper or the steel industry."
Along with the new 77kW and 85kW Agco engines, they combine to reduce fuel consumption and meet the latest EU (Stage IIIB, Tier 4i) emission requirements. The new engine also creates less vibration and is mounted under the cabin, where an automatically operated hydraulic fan is situated. These features together with the reversed airflow make the operator environment cooler, quieter and considerably more comfortable for the driver, particularly those experiencing long shifts. The fan also can reverse the airflow when operating in dusty environments to allow for cleaning of the cooler and engine compartment by flushing the dust out of the cooler.
"We focused our attention on features that enhance driver comfort and reduce fatigue, on long shifts and in all conditions," continued Malmborg. "For example, the machine is comfortable for the driver to operate in temperatures ranging from -20 degrees Celsius up to +45 degrees Celsius. Additionally, the machine can be specified with a variety of seating and steering configurations. In addition to the conventional steering wheel, there are two ergonomically designed steering systems available. The first provides a mini wheel on the left armrest and the second option allows the machine to be controlled with a lever system. Both significantly reduce fatigue on the shoulders and neck. We also introduced a new hydraulic pump system, providing the power for heavy duty lifting and service intervals have been extended. The first service, currently due after 50 operating hours, has now been increased to 500 hours," he concluded.
Companies in this article