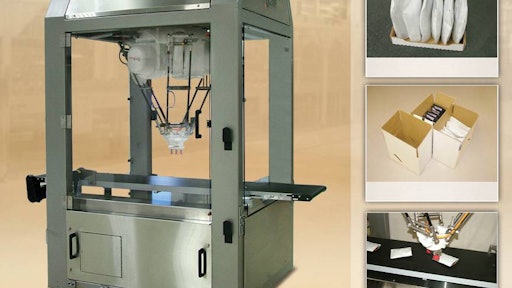 Greenville, Wis.—April 16, 2013—Robotics integrator QComp Technologies Inc. unveiled its latest addition to its line of packaging systems, the High Speed Pick & Pack robot. The High Speed Pick & Place robot packs cases in horizontal or vertical package configurations. This new system is designed to minimize labor-intensive picking and packing tasks and handle the newest package designs such as stand-up pouches.
"The High Speed Pick & Pack system was designed to provide manufacturers with the ultimate flexibility to accommodate multiple new packaging designs," said Tom Doyle, President of QComp Technologies Inc. "The system will reduce production costs and increase packagers' bottom line and is ideal for case packing, tray filling, stand-up pouches, bags packs and more."
The High Speed Pick & Pack system features a delta style robot with integrated vision. It is flexible for future expansion and because it is pre-engineered, it additionally offers a fast project return on investment. The system is available with a six axis robot and stainless steel for wash-down applications.
Companies in this article