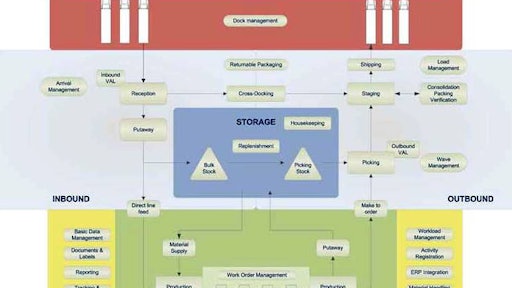 Stockholm, Sweden—Nov. 7, 2012—International Business Systems (IBS), a global provider of ERP and supply chain solutions, globally launched its Dynaman warehouse management system (WMS) designed solely for the mid-market.
"The supply chain is evolving at an unprecedented pace especially for mid-market companies, as customers and trading partners demand more services, visibility and value in shorter delivery times at a lower cost," said Doug Braun, Chief Executive Officer, IBS. "IBS Dynaman has the power and functionality to meet these demands today and the configurability to address unforeseen changes as business evolves at a price that distributors can afford."
The Dynaman WMS gives companies full control over their distribution operations to manage the complexity of the supply chain with advanced WMS and MES features. Its open architecture makes it easy to integrate and interface with ERP and material handling solutions and is engineered to provide strict process control, data accuracy and complete visibility. Whether deployed on-site or in the cloud, Dynaman WMS increasing efficiency, maximizes customer service, optimizes space and minimizes inventory costs.
In addition, its rules-based engine controls the movement and storage of materials within a warehouse and processes the associated transactions, including shipping; receiving; put-away; picking; wave management; dock-to-stock and stock-to-dock cycle counting; reporting and analytics. It also directs and optimizes stock put-away based on real-time information about the status of bin utilization.
IBS Dynaman also provides depth and breadth of functionality to support third party logistics (3PL) business models—from managing multiple inventory owners across multiple warehouses, to managing and supporting customer specific handling request, across diverse and complex logistics networks to continually drive growth and flexibility through the 3PL supply chain.
"Dynaman was the most functionally complete WMS solution capable of supporting our business to business and direct to consumer business models," said Jean Van Den Poel, Chief Executive Officer, 2XL. "We have a challenging multi-warehouse environment with more than 52,000 pallets that mandated consigned inventory support, full track and trace capabilities and a high level of customer service. Dynaman delivered a 35 percent savings in transport costs; stock accuracy of 99.3 percent; improved lead times for multi-modal transport and a significant improvement of KPIs."