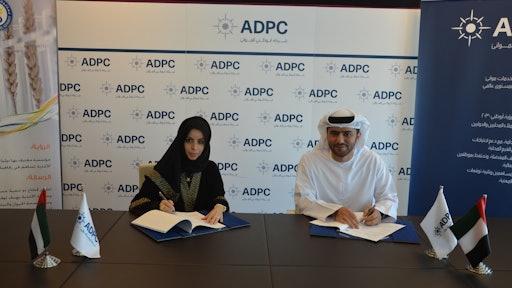 Abu Dhabi, United Arab Emirates—July 3, 2012—Abu Dhabi Ports Company (ADPC) signed a Memorandum of Understanding (MoU) with Abu Dhabi Food Control Authority (ADFCA) under which ADFCA will oversee and facilitate the inspection process of food items that pass through Khalifa Port, the first semi-automated port in the region.
"We are delighted to be formalizing our agreement with ADFCA which resembles our government's vision in continuing to seek high-standard food safety regulations to protect all nationals and residents in the UAE," said Captain Mohamed Al Shamisi, Executive Vice President of Ports Unit at ADPC. "ADPC is committed to undertake all procedures necessary to work closely with ADFCA in the aim of performing all duties in the best way possible."
The memorandum includes a number of regulations which will allow ADPC to facilitate the screening of food items and the delivery of international standards of services to its partners and companies who will be operating through Khalifa Port's first phase leading up to the completion of the whole project that is in line with ADFCA's mission to ensure the delivery of safe food items to the public.
"We at ADFCA work continuously to ensure delivery of healthy and safe food to all residents in Abu Dhabi," said H.E. Dr. Mariam Hareb Sultan Al-Yousuf, Executive Director of Policy and Regulations Sector at ADFCA. "Signing this memorandum with ADPC is considered a major step towards ensuring the safety of food products received through Khalifa Port and it furthers the principle of mutual cooperation pursued by the authority with all strategic partners."
The food authority will be providing all of the necessary procedures to ensure a seamless passage of food goods that are in accordance with the highest world safety standards. ADFCA will also support customs officers to help them perform their duties efficiently and effectively. Customers of both ADPC and ADFCA will enjoy a variety of world-class services and facilities that match Khalifa Port's world-class ambitions.
"We hope that this agreement reflects positively on both parties," added Al-Yousuf. "It is crucial that all concerned institutions cooperate to develop an integrated and harmonized management system in the field of food control and inspection to comply with the obligations under the World Trade Organisation agreement and other relevant conventions."
Khalifa Port, scheduled to open in September 2012, will be the first semi-automated port in the region with the initial capacity to handle 2.5 million TEUs and 12 million tons of cargo annually. Following its completion, it will be connected to Etihad Rail and will offer freight opportunities that are unique to the region.
ADPC, the parent company of Khalifa Port and Kizad, will launch the first phase of the megaproject currently under construction in Taweelah, in September this year. It consists of both Khalifa Port and the adjacent Kizad (Khalifa Industrial Zone Abu Dhabi). The first phase of the project, which will in time grow in planned subsequent stages to become two thirds the size of Singapore, has cost AED26.6 billion (USD 7.2 billion). Kizad will become one of the world's largest industrial zones, and Khalifa Port will stand out as the only port in the Middle East and North Africa equipped with a semi-automated container yard operated by an integrated digital system, which is designed to cater for the future needs of the transportation sector and industrial sectors in the emirate. The port covers nine square kilometers, including the 2.7 square kilometer offshore port island. It is the only semi-automated sea port in the Middle East and is expected to become a highly competitive, leading global port, making a vital contribution to the Abu Dhabi Economic Vision 2030.