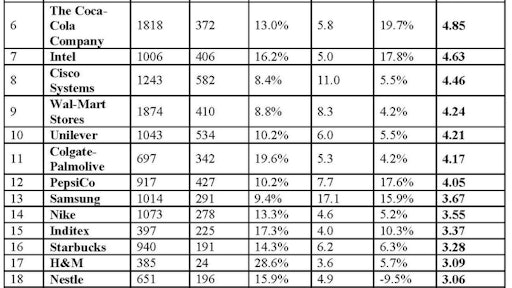 Gartner Inc.'s eighth annual Supply Chain Top 25 found mainstays Apple, Dell, P&G and ranking newcomers Amazon and McDonald's within its top five ranking.
With a goal to raise awareness of the supply chain discipline and how it impacts the business, the Supply Chain Top 25 rankings comprise two main components: financial and opinion. Public financial data gives a view into how companies have performed in the past, while the opinion component provides an eye to future potential and reflects future expected leadership, a crucial characteristic. These two components are combined into a total composite score.
"Last year, we noted that companies were starting to invest in resources and assets again, reflecting a newly recovering economy," said Debra Hofman, Managing Vice President at Gartner. "This year, that trend continues even more strongly, with many companies investing for growth. The global economic recovery has been uneven and halting in some cases, but, on balance, the result has been expansionary for companies' bottom lines and outlooks."
Average annual revenue growth of the companies in the study increased 29 percent over the previous year. The average return on assets (ROA) and net profits improved by more than 50 percent in 2010, and then stabilized this year, signaling profitable growth.
Topping the list
Maintaining its record in the No. 1 slot was Apple (see Table 1), delivering total solutions to its customers through tightly integrated design of hardware components, firmware, a proprietary operating system and an ecosystem of applications that run on top of that platform. Stellar financials, which further improved this year, supported by the highest voting scores point to its combination of operational and innovation excellence, a zealous focus on starting with the consumer experience and working back through the design of its supply network, and mastery in orchestrating its end-to-end value network.
Gartner analysts said Amazon is a great example of an "orchestrator" that goes beyond simply borrowing and adapting others' best practices and consistently defies conventional wisdom. McDonald's moved up five spots to No. 3 this year on strong financials and peer opinion votes. The ubiquitous restaurant chain has managed the balance between new product growth, and the resulting complexity in supply chain planning and execution.
According to Gartner analysts, three notable trends across supply chain leaders included a continued focus on supply chain resiliency, simplification and "multilocal" operations.
Resiliency: Many of this year's Supply Chain Top 25 companies were impacted by natural disasters, such as the Japanese earthquake and tsunami, and the massive flooding in Thailand. "Leading companies such as Intel, P&G and Unilever improved multitier supply chain visibility and advanced network management capabilities to be agile in the face of disruptions," said Hofman. "Overall, leaders have remained focused throughout the past year on building resiliency into their global supply chains, and we see it continuing to be a highly valued supply chain characteristic."
Simplification: Many companies said they have exhausted easily gained efficiencies within their existing supply networks and product portfolios. Further improvement will require structural changes to streamline the flow of supply, and eliminate less profitable product and portfolio complexity. "Supply chain leaders are adopting complexity optimization strategies to eliminate infrequently used product features, service offerings, suppliers and distribution network capacity that does not add sufficient value to customers," said Stan Aronow, Research Director at Gartner.
"Multi-local" Operations: Manufacturers and retailers have long sought ways to balance the trade-off in their supply network designs between global economies of scale and the demand for local responsiveness. Leading companies are reassessing their sourcing and manufacturing networks, and rebalancing their supply network strategies in favor of multi-local design, supply and support. More specifically, they are shifting from a centralized model, where these functions support global markets, to a regionalized approach, where capabilities are placed locally, but architected globally.
For more report details, visit www.gartner.com/supplychaintop25.