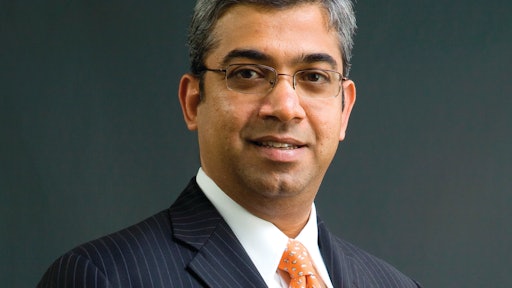 While in the past manufacturing leveraged labor arbitrage (which ultimately moved U.S. work to lower-cost countries such as China or India), now key factors—including low U.S. energy costs, increased technology consumption and automation and improved supply chain risk mitigation—continue to drive the resurgence of domestic manufacturing.
"The booming high-tech world, resurgence in the auto and aerospace sector, increasing consumption of technology—whether it's in mobility or supply chain risk mitigation or processes—all of those areas are gaining a significant amount of traction which provide increased confidence that the overall technology spend in the manufacturing sector is on an upward climb," confirmed Ashok Vemuri, who in the past few months came into his new role as Global Head of Manufacturing and Engineering Services, Infosys, Bangalore, India. "From a technology perspective, our clients have not really looked at outsourcing in a major way nor have they bought into it as much as financial service companies have done in the past—and that is another reason why we think there is a tremendous amount of opportunity here."
Vemuri—who has over 20 years of financial services industry experience—transitioned to the existing company role in order to build a financial services practice in the company's manufacturing vertical focus (B.G. Srinivas took over Vemuri's former duties as Head of the Financial Services sector).
"If you look at some of the industries that make up the manufacturing sector—mining or metals or chemicals—these have traditionally stayed away from large technology spends," Vemuri continued. "But now, they're actually enforcing the consumption of technology into their core manufacturing processes—beyond customer service of a call center, for example. So there's a whole ecosystem that is coming together as a result of technology—whether it's mobility, digital marketing or supply chain optimization."
Available cloud-based platforms are one way that businesses and suppliers are working to manage their entire supply chain risk on a global scale to address such questions as: 'How do we reduce supply chain disruption costs? How do we minimize time to recovery in case of events—such as natural disasters—that are beyond our control? How do we improve supplier compliance?'
"A lot of the suppliers that our large clients have are based out of countries where the regulatory requirements are much different and potentially stricter than in the U.S. with regards to sustainability practices," said Vemuri. "Such interactions have essentially become complex interactions between multiple stakeholders involved—from customers to partners to suppliers. Technology for supply chain risk management has to not only manage risk but predict it in order to be able to manage it—and all that work that we do, we are bringing it from a risk management perspective from our financial services to our manufacturing services."
But despite the technological traction that is evident on the market today, key supply chain executives must also strive to enact the right business processes, procedures and decision protocol from the top down in order to maximize on their current and potential investments and tie their disparate processes together.
"Supply chain functions within an organization are fairly distributed. There are so many moving parts today—procurement, planning, the whole nine yards—and limited visibility to the supply chain," said Vemuri. "High-tech is an area that we believe will continue to grow." So much so that the global consulting, outsourcing & technology provider is making a significant amount of investment in building those capabilities. "But it requires us to also hire a lot more people in the U.S. market and hire capabilities which are beyond just the technology. We need to understand the business processes of our clients as well. With the manufacturing resurgence and the investments that we are making, manufacturing will become one of our fastest-growing sectors," he concluded.