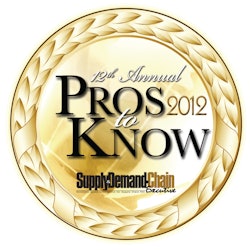 The supply chain has come through what has been called by many a "turbulent" year. Faced with disasters both natural and man-made, supply chain professionals have had to think on their feet, change tactics on the fly and look further down the road than ever before.
With the 2012 edition of Supply & Demand Chain Executive's Pros to Know, the magazine is recognizing many of these exceptional supply chain executives at manufacturing and non-manufacturing enterprises who are leading initiatives to help prepare their companies' supply chains for the significant challenges ahead. These men and women are helping the supply chain to be increasingly recognized as a strategic differentiator crucial to meeting the challenges of the "new normal."
"Our annual list of Provider Pros to Know highlights the many thought-leaders who are helping to shape the supply chain industry and advance supply chain as a respected discipline in the enterprise," said Barry Hochfelder, editor of Supply & Demand Chain Executive. "Their efforts in developing the tools, processes and knowledge base necessary for supply chain transformation, and in promoting new approaches to supply chain enablement, have earned them a place on this year's Provider Pros listing."
This year's Practitioner Pro of the Year is Ted Johnson, Chief Procurement Officer at the University of California, San Diego. By implementing an eProcurement platform, Johnson and his team were able to gain greater visibility into spending—data which previously was only visible at line-item detail to suppliers. The university quickly realized the benefits of the new purchasing system; the amount of time to process orders was dramatically reduced, with 94 percent of all purchase order transactions finalized within one business day.
In addition, the 2012 Provider Pros to Know recognizes individuals from software firms and service providers, consultancies or academia, who have helped their supply chain clients or the supply chain community prepare to meet industry challenges. These Provider Pros to Know offer thought-leadership that is shaping the supply chain industry and advancing it as a respected discipline.
The men and women included in the 2012 Pros to Know exemplify the talent, knowledge, skills and effort necessary for supply chain leadership. They are an elite group leading the industry and their own enterprises into the evolving future.
SDCE is proud to list them here. For more exclusive coverage on the Practitioner Pro of the Year, other Pros to Know and some outstanding Supply Chain Teams, stay tuned for the March issue of Supply & Demand Chain Executive, both online and in print.
Provider Pros
Phil Marlowe, Acuitive Solutions; Mike Lee, Airclic; Jim Preuninger, Amber Road; Ralph McCoy, Apptricity Corp.; Andrew Bartolini, Ardent Partners; James Tucker, Drew Hofler, Ariba; Laura Rokohl, Aspen Technology; Clark Johnson, Jason Averill, Avercast; Gerry Fay, Avnet; Michael Fiore, Axway; Esa Tihilä, Basware; Marc Kalman, BizSlate; Kelly Barner, Buyers Meeting Point; Travis Sumner, Cass Information Systems; Steve Halula, Anne van de Heetkamp, CDC Software; Kevin Zweier, Chainalytics; Matt Gersper, Ron Lackey, CiGDM; Rich Wilson, Bob Dusch, Steve Brooke, Alex Kozak, CombineNet; Robert Wiedmaier, Container and Pooling Solutions (CAPS); Jason Evans, Corbus; David Clevenger, Corporate United; Jeff Silver, Coyote; Henry Singer, CSC; Jim Lawton, D&B; Bill Harrison, Demand Management; Priyadarshan Deshmukh, Denali Group; Chris Jones, Descartes Systems Group; Thuy Q Mai, DiCentral; Paul Strzelec, Digital Tempus; Ann Drake, DSC Logistics; Leslie Lenhart, DSSI; William Gindlesperger, e-LYNXX; Terrence Curley, Martin Berr-Sorokin, Emptoris; Jason Beardall, England Logistics; Jim Barnes, enVista; Michael Schmitt, Rob Schoenthaler, E2open; Michele J. Flynn, Expense Management Solutions; Betsy Harrington, The Faculty; Arun Srinivasan, Fieldglass; Philippe Jadoul, Flash Global Logistics; Matthew Bardell, Global eProcure; Bruce Johnson, GHX; Robert A. Rudzki, Greybeard Advisors; Andy Stinnes, GT Nexus; Jim Cantrell, Hubspan; Patricia J. Moser; i3 Advantage; Matt McCarrick, Scott McBride, Jason Treida, David Bush, Sean Delaney, Mireia Brancos, IASTA; Kevin Gavin, IES; William Leedale, IFS North America; Michael Lyle, InfinityQS International; Michiko Lloyd, Karen Lobdell, Kevin Shoemaker, Integration Point; Mark Wright, Inmar; Jeff Karrenbauer, INSIGHT Inc.; Paula Natoli, Joseph King, JDA Software; Anne Omrod, John Galt Solutions; Malcolm Buxton, Just Enough Software; Jim Kelly, JV Kelly Group; Teresa Carroll, Kelly Outsourcing & Consulting Group of Kelly Services; Mark Mototsune, Kinaxis; Amy Villeneuve, Kiva Systems; Bernard Gunther, Lexington Analytics; Diego Pantoja-Navajas, LogFire; Mike Edenfield, Logility; Jeffrey Wincel, LSC Consulting Group; Matt Akin, Metafile Information Systems; Dalip Raheja, Anne Kohler, The mPower Group; Charles Dominick, Next Level Purchasing; Eric Anderson, Tom Burson, Pace Harmon; Robert A. Novack, Smeal College of Business, The Pennsylvania State University; Joe Weisskopf, PrimeRevenue; Louise O'Sullivan, Prime Advantage; Erin Moore, ProcureStaff Technologies; Fabio Domenech, Procurian; Craig Zawada, PROS Pricing; E. Allen West, Railinc; Rose Kelly-Falls, Rapid Ratings; Michael Mayoras, RedPrairie; Robert Arndt, Ryder System Inc.; Emily Rakowski, SAP; James A. Kandilas, Melissa Drew, The Shelby Group; Omer Abdullah, The Smart Cube; Charles N. Smart, Smart Software; Dave Brooks, Software AG; Joe Payne, Source One Management Services; John Haber, Spend Management Experts; Joy McCaffrey, Brian Daniels, Rod True, Cindy Barlow, Teressa Erickson, Bill Ryan, Sean Regan, Spend Radar; Scott Bolduc, Jim Frome, SPS Commerce; Nari Viswanathan, Steelwedge; Robert F. Byrne, Terra Technology; Jacqueline Bailey, TidalSeven; Susan Evans, Tompkins Associates; Kurt Cavano, TradeCard; Ashif Mawji, Upside Software Inc.; Chris Morrow, Volt Consulting Group.
Practitioner Pros
Chad Rosenberg, American Global Logistics; Shekar Natarajan, Anheuser-Busch InBev; Heather Rodgers, Centrica; Gary Cooper, Cisco; Lee Dame, CooperVision; John P. Willi, Dana-Farber Cancer Institute; Don Dougherty, Denali Group; Mike McGuigan, Elemica; Brent Tymensky, Mike Dunn, Steve Johnson, Fortna Inc.; Jaymie Forrest, Georgia Tech; Scott DeFreitas, Hypertherm Inc.; Brent H. Eiland, Tom Beaty, Insight Sourcing Group; Cynthia Dautrich, Kimberly-Clark; Eddie Capel, Manhattan Associates; Daron Whisman, Memorial Hermann Healthcare System; Leonard Han, ModusLink; Paul Stamas, Mohawk Fine Papers; Gary A. Smith, New York City Housing Authority; Jody Hatcher, Novation; Carlton Adams, Peabody Energy; Staci Hargraves, Pharmaceutical Product Development; Don Klock, Rutgers University; Ted Johnson, University of California, San Diego; Todd Jadin, Schneider Logistics; Jason Liner, SciQuest; Michael Martin, Stanley Black & Decker; W. Lamar Chesney, Suntrust Banks Inc.; Joey Benadretti, SYSPRO; Ben Cubitt, Transplace; Patrick McGivern, VeriFone Systems; Scott Downing, VHA Inc.
Supply Chain Team Pros
BMC's Global Procurement Contingent Workforce Team; DynCorp International; Fidelitone Logistics; IHS, Supply Chain Experts; Sodexo; Treya Partners.
Companies in this article