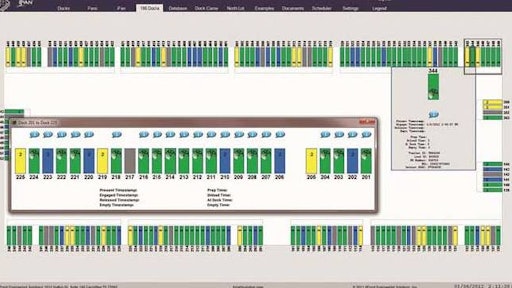 Carrollton, TX—Feb. 9, 2012— Loading dock equipment provider 4Front Engineered Solutions showcased its 4SIGHT Yard and Dock Management System at MODEX 2012 in Atlanta this week.
4SIGHT allows facilities to monitor, schedule, and communicate trailer movements, load assignment and loading dock status in an easy-to-use interface. The system combines RFID, GPS and sensor technologies to provide real-time yard and loading dock visibility, full automation and optimization from the time a vehicle approaches the inbound gate to the time it exits the outbound gate. The event-management capabilities and alert notifications improve trailer coordination and turn time. The system also allows facilities to schedule maintenance based on actual usage. Once equipment reaches a usage threshold it automatically sends e-mail alerts to service providers and facility managers.
Additional system benefits include robust data mining and report creation; effective management of third-party drivers; and reduced bottlenecks in the yard and at the loading dock.
For more information, visit www.4sightsolution.com.