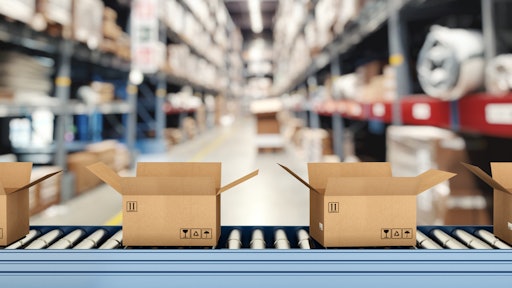 alphaspirit - stock.adobe.com
E-commerce volume - already surging pre-pandemic - soared almost overnight when the world came to a standstill in early 2020. Increased e-commerce demand is expected to continue with shoppers now in the habit of going online first. Original research commissioned by PFS shows more than three-quarters (77%) of consumers expect to purchase more online moving forward. Online retailers are now faced with a new challenge -- an intensifying demand for warehouse space.
JLL revealed e-commerce requires three times the space of traditional throughput distribution. To keep up with this incredible online growth, U.S. retailers will need 1 billion additional square feet of warehouse space by 2025.
But, referring to this demand for space as purely a warehouse problem may be missing the mark. The challenge is more accurately managing the intermediate steps between when a retailer receives goods and getting them into a customer's hands. Sometimes the answer is storing merchandise in a warehouse. But, in the new digital-first and omnichannel landscape, there are a range of alternative options.
It's not just a warehouse
E-commerce warehousing is not simply four walls and a roof to keep goods dry while they await delivery. Modern e-commerce logistics incorporate extensive automation for sophisticated tracking, picking and shipping systems that maximize space utilization while minimizing operating costs.
Even if suitable real estate is available, the requirements for proper e-commerce facilities becomes a challenge. Unless (by some miracle) the space has already been configured for e-commerce operations, considerable build-out is often required. The extensive time required to build-out such an operation means, unless you are already underway with such a project, having a new distribution center up and running for peak 2021 is going to be difficult.
Omnichannel retailers already have the benefit of existing real estate in the back of their stores. This can address the squeeze from two directions -- providing forward staging of merchandise for delivery and enabling customer pickup. Leveraging existing brick-and-mortar locations to support e-commerce orders can reduce requirements for both storage and large-scale packing operations. Such spaces can be automated for enhanced store fulfillment operations that enable stores to support the e-commerce channel without disrupting store operations.
Depending on the size of the operation, store locations and geographic spread of customers, additional fulfillment options may be required to support demand, particularly during peak periods. With all of this in mind, it is no wonder that over one-third (36%) of retailers are planning to increase their investment in fulfillment capabilities in 2021.
Opting for options
Here are just a couple of alternative solutions brands should be considering to address their needs for the upcoming peak season.
Pop-up distribution centers. PFS' research found that, to combat an expected surge in online sales last peak season, 27% of retailers invested in pop-up distribution/micro fulfillment. Like the concept of the pop-up shop, the pop-up distribution center can be rapidly deployed, enabling brands to quickly set up and serve customers as required. Thanks to their adaptable nature, these space-on-demand warehousing methods can be a flexible and cost-effective option to online fulfillment.
Multi-node fulfillment. On a larger scale, multi-node fulfillment can also serve as an effective solution to brands facing the capacity crunch. Rather than operating and holding stock in one larger distribution hub, this concept utilizes multiple "nodes" strategically placed to serve a variety of locations. When underpinned by an effective distributed order management (DOM) system, these micro-distribution centers can enable brands to identify which facility can fulfill the order most effectively, i.e., within the shortest timeframe or according to inventory availability. Once identified, the DOM routes orders to the appropriate facility for fulfillment.
Outsourcing as a way out
The explosion of e-commerce has generated a range of third-party logistics (3PL) providers who can handle some or all of the fulfillment functions. While this might seem like a costly way to address the shortage of warehouse space, it can actually be relatively cost-effective. By leveraging resources shared among several retailers and maximizing utilization of space and staff, the cost differential between outsourcing and self-managed operations narrows considerably.
According to the PFS study, 52% of retailers are planning to outsource large portions of their e-commerce operations for peak 2021, leveraging 3PL warehousing and fulfillment capabilities. For retailers still on the hunt for suitable real estate, this seems like the best - and maybe only - way to go, at least for this year.
As a Bain study of e-commerce operations released in January stated, "A flexible fulfillment strategy will help companies adjust rapidly to unexpected shifts in supply and demand." This means that the next stage of growth for online brands will be hinged not just on sourcing additional capacity, but also on identifying alternative distribution and fulfillment infrastructures and utilizing them to ensure consumer demands can be met effectively. And, ease the squeeze.