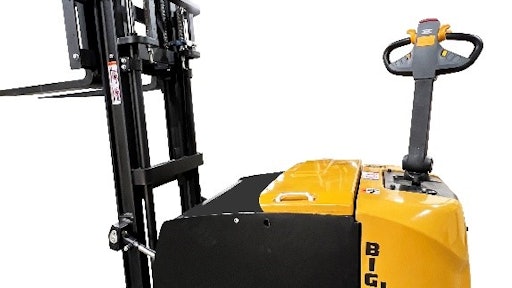 Big Joe Forklifts
Big Joe Forklifts introduced the new CB30 and CB35 Walkie Counterbalance Stackers as a safe alternative to traditional rider forklifts.
Available in 3,000- and 3,500-pound capacities, these new walkie stackers are ideal for smaller facilities as a one truck solution or as a supplemental piece of equipment in larger facilities.
"Our new CB30/CB35 Walkie Stackers are a great solution to handle loads over short distances," says Big Joe's CMO, Bill Pedriana. "We designed these machines to provide exceptional value and flexibility in smaller facilities as a one truck solution or to supplement traditional rider equipment in the biggest of operations. The new CB30/35 are a fantastic alternative to traditional forklifts, and in operations a great answer to the question we often pose, which is, 'Why Ride When You Can Walk?'"
From BusinessWire:
The Big Joe CB30/CB35 stackers offer advanced load handling capabilities and maneuverability due to their updated controls and compact chassis design, which features a cast counterweight.
With 4.6 inches of maximum ground clearance, these machines can easily traverse dock transitions, streamlining the process for unloading or loading trailers.
New users will find the CB30/CB35 to be extremely nimble and able to make tight turns easily via standard electric power steering and a 180-degree steer arc.
These compact machines are an asset in any general material handling applications, including warehouse, manufacturing and retail deliveries from ground level when a dock or lift gate is unavailable.