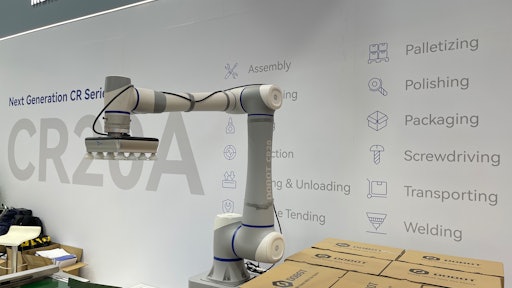 Dobot Robotics
Dobot Robotics released the CR20A high payload collaborative robot, which boasts a 20 kg payload capacity, a 1700 mm super wide working radius and ±0.1 mm repeatability, making it suitable for heavy load handling, packaging and palletizing in industries such as food and beverage, logistics, automotive and more.
"As a leading manufacturer of intelligent robots, Dobot has always adhered to the concept of human-robot collaboration, committed to developing safe and easy-to-use products, and promoted the widespread use of collaborative robots in more industries and scenarios. The launch of the CR20A high payload robot marks another milestone in Dobot's product line, forming a complete product matrix that covers 0.5 kg to 20 kg payloads to fulfill a wider range of application scenarios," according to Dobot Robotics.
From Dobot Robotics:
Based on Dobot's new generation technology architecture and advanced dynamic algorithms, the CR20A's residual vibration is reduced by 50% during high-speed stops. The robot has enhanced reliability to greatly improves production efficiency in heavy-load scenarios. In palletizing applications, the CR20A is capable of stacking up to 7 items per minute, and is compatible with most standard European and American pallet sizes, with a maximum pallet dimensions of 1219 mm × 1219 mm.

The robot adopts an electromagnetic brake protection mechanism, which automatically engages in the event of a power outage, effectively preventing the robot's end tool from falling and ensuring no displacement occurs during start-up and shut-down, thus ensuring safe robot operation.

In actual production applications, the robot's actual load may change due to process adjustments. To avoid problems caused by significant load deviations, the CR20A has a load auto-detection function.

The CR20A supports Ethernet/IP and Profinet communication, seamlessly connects with other automation systems via PLC, and has 24 channels of universal IO ports that support for PNP/NPN switching, providing customers with a smooth automation experience.