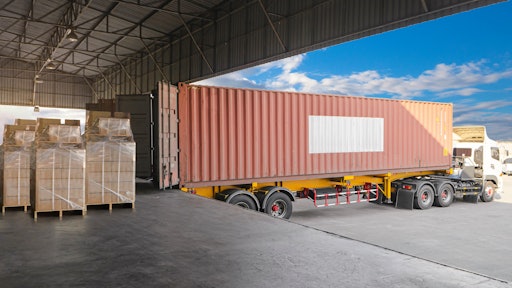 Siwakorn1933/stock.adobe.com
Every piece of equipment at a loading dock equipment performs a specific function, without which the loading or unloading operation can't safely take place. Down a loading dock leveler? Then that dock position will be out of commission until it's fixed or replaced. The same goes for the trailer restraint, the dock barrier, the dock door and so on.
No matter how strong these individual products are, the daily operations associated with heavy material handling equipment driving over them and semi-trailers bumping into them can eventually wear them out. While some facilities use internal maintenance departments for loading dock equipment repairs—and procure necessary replacement parts—themselves, more and more are realizing that the quickest way to get up and running again is by using a dedicated loading dock service provider with access to an inventory of OEM replacement parts.
A customized planned maintenance program (PMP) can help make this situation a manageable one. The key is to entrust the maintenance work to trained technicians who have a deep knowledge of the products installed at the loading dock. Once established, those technicians can provide the insights—and the right replacement parts—in a fraction of the time it would normally take.
Parts on demand
Supply chain challenges in the last year have made it difficult to find and quickly install replacement parts, especially parts for loading dock equipment. Replacement parts aren't always a day away, but facilities that have a planned maintenance program (also commonly called a "preventative" or "proactive" maintenance program) in place are almost always going to have access to parts faster than facilities that don't. In some cases, service technicians might have a replacement part on their truck to fix an issue the same day.
Some parts manufacturers and material handling distribution networks offer advanced programs that include the stocking of various replacement parts based on your installed equipment. This can mean much quicker turnaround times for getting the loading dock position operational. Additionally, depending on the manufacturer and service program, the cost for this work is often covered within the terms of the PMP.
Even PMPs that don't offer parts stocking will often come with a regular schedule for maintenance and service that equates to more timely parts and replacement—at a lesser cost—compared to facilities that choose reactive maintenance as a strategy.
The benefits of a PMP
Unexpected breakdowns result in undesirable problems like inefficient downtime and the high costs associated with repairing or replacing equipment. In worst-case scenarios, operational equipment that isn't functioning properly (perhaps unknowingly to personnel) can potentially injure workers. Operations can seize at the loading dock and impact an organization's bottom line. Ideally, most of these breakdowns can be avoided in the first place with a planned maintenance program (PMP).
PMPs generally start with a free survey to determine the state of the facility and what type of program is needed. Depending on the needs of the facility, PMP inspections can be scheduled monthly, quarterly, semi-annually, or yearly. Technicians through a PMP quickly learn all the ins and outs of a facility after several visits. If an emergency does take place, a certified technician can tend to the situation quickly and more knowledgably than a technician who is seeing the facility for the first time.
In addition to providing maintenance, technicians can red-tag equipment that has been compromised and can make sure parts are ordered well in advance. Their advanced training allows technicians to spot small problems early and provide alternative methods to be used to potentially extend the life of the piece of equipment.
While inspections and routine maintenance will temporarily limit use of a dock, it's always better to know when docks are going to be down instead of suffering unplanned equipment failures with indefinite downtime. Many providers offer PMPs that extend inside the facility, as well, and include products like doors, fans, barriers, and other in-plant equipment.
Additionally, a PMP allows internal maintenance staff to work on jobs they were originally hired to do. According to Rules of Thumb for Maintenance and Reliability Engineers, an enormous 70 to 85 percent of equipment failures are due to inadequate maintenance practices. If a single dock door needs just one hour of maintenance a quarter, a mid-sized operation with two dozen dock doors is looking at nearly 100 hours of downtime at its shipping operations for annual maintenance. This doesn't include any breakdowns that might occur.
Reactive maintenance and replacement
According to a government study, a staggering 55 percent of companies take a reactive approach to maintenance. That same study recommended this method should be used only 20 percent of the time.
Those organizations who choose the reactive approach for maintenance most likely don't employ a full-time in-house expert to provide regular maintenance. Not having regular attention on equipment may result in an inevitable breakdown that will typically need to be replaced. The costs associated with emergency service and replacement are often staggering. Adding insult to injury, equipment breakdowns can lead to hours, days or weeks of unproductive, cash-draining downtime, not to mention the possibility of detention and demurrage charges from carriers, product integrity issues for sensitive inventory, and increased productivity costs.
Save time and money on replacement parts with a PMP
A PMP will often get to the root cause of problematic loading dock equipment and be able to fix the issue before an emergency arises. However, even in the case of an unexpected breakdown at the loading dock, facilities that outsource maintenance and have a PMP in place are often going to be fast-tracked for a replacement part or total equipment replacement.
Implementing a PMP is a smart long-term management strategy. The advantages stack up favorably against a purely reactive maintenance plan, especially after time. Planned maintenance creates a safer work environment, increases operational efficiencies, and can even help facilities get replacement parts faster in a time of need.