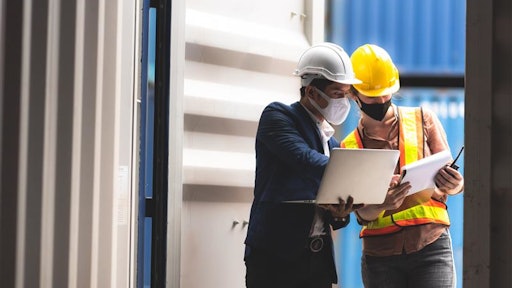 chokniti
The Coronavirus disease (COVID-19) pandemic condensed nearly a decade of projected online shopping growth into one year. Americans spent $791.7 billion on e-commerce during 2020, up 32.4% from 2019, according to federal data.
U.S. e-commerce sales are expected to continue skyrocketing this year, climbing by double digits to reach a year-end high of $933.3 billion. Regardless of whether that breakneck pace continues, the pandemic has forever changed Americans' shopping habits.
Unprecedented opportunities now exist for the logistics industry to power America's economy, create jobs and meet growing demand for faster, more efficient delivery. But, the logistics industry needs help with infrastructure improvements, government policies, technological development and training to take advantage of those opportunities.
Nowhere do the builders of warehouses and distribution centers and other logistics industry players need more assistance than in big cities where delivery challenges are the greatest. New distribution facilities will enable retailers to reach their customers with relative ease on locations with abundant land and low congestion.
But, urban developers grapple with a litany of challenges, from high demand and traffic to tight spaces and areas not designed for transportation, zoning issues and a dearth of high-quality industrial locations.
Luckily, the logistics industry continues to innovate, including designing multi-story facilities that maximize available land and accommodate new and anticipated technologies. Here are some of the obstacles urban industrial developers face and what can be done to overcome them.
Consumer expectations drive change
Perhaps the biggest challenge the logistics industry faces is new consumer expectations. Prompted by the success of rapid delivery from big-box stores, retailers are quickly evolving to meet faster shipping demands.
Roughly 75% of the sellers of apparel, hard goods and specialty retail products intend to build out their delivery capabilities to offer shipping in two days or less, and 42% are aiming for one-day, click-to-customer options by 2022, according to McKinsey.
Today, about half of online retailers offer same-day delivery, and 65% say they plan to offer it within two years, according to BRP. The looming holiday seasons will only intensify such shipping pressures.
Deloitte expects e-commerce holiday spending will skyrocket 15% this year, rising to $218 billion from $189 billion, amid epically difficult global supply chain issues and seismic shopping shifts caused by the pandemic.
Compounding matters, e-commerce typically requires more storage space to accommodate higher inventory levels. That means America's rapid e-commerce adoption could generate over 400 million square feet of additional U.S. logistics real estate over the next three years, according to Prologis.
Nowhere is the need to find logistics space greater and tougher to meet than in cities, where space is at a premium and some 80% of Americans live. But, the supply of Class A urban logistics space hasn't kept up with America's urbanization.
Class B and C industrial product constitutes more than 90% of the space in densely populated urban infill markets, according to CoStar. Even after a decade of steady growth, the percentage of prime industrial stock remains in the single digits in cities from coast to coast.
Meeting health, safety and economic needs
Given the value of urban real estate, some cities have actually lost industrial space. New York, for example, shed 11 million square feet or 9% of its industrial stock in the past 20 years. Class B and C properties aren't ready substitute. They're typically functionally challenged, with issues such as low ceilings and a lack of off-street space and parking.
COVID-19, meanwhile, exposed vulnerabilities in the U.S. supply chain and the risks of depending on foreign countries for necessities like medicine and healthcare supplies. That's not to say challenges of developing urban infill projects are insurmountable.
Creative and innovative logistics center designs, new technologies and the repurposing of older industrial stock to create multi-story distribution centers are all helping to meet consumer demands. More warehouse and distribution spaces means more workers are needed.
The United States must realign its education system to create the workforce to fill logistics and supply chain jobs. Roughly 41% of recent college graduates – and 33.8% of all college graduates – are underemployed or working at positions that don't require a college degree, New York's Federal Reserve Bank found in 2020.
Yet, there's a serious dearth of qualified applicants to fill the growing number of good-paying, career-track positions, including distribution center managers, fleet managers, business operations specialists, configuration analysts, senior landman and engineering positions.
Public-private partnerships to stimulate economies
High schools and colleges should create new programs, expand existing offerings, add scholarships and connect students to logistics jobs that are literally and figuratively fulfilling. Governments have a role to play in solving America's logistics issues, too, by providing development incentives to lower the high urban building costs.
Real estate tax abatements and financial credits linked to hiring in-state residents also could help logistics firms expand and create much-needed jobs for labor forces hit hard by COVID-19, while shortening delivery windows.
Now more than ever, cities need to stimulate their economies and meet consumer needs by embracing creative transportation solutions and invest in infrastructure. Americans continue to rethink where they work and live, and only about one in three workers has returned to the office in places like New York City, even as of late October, according to Kastle Systems.
Addressing traffic is one major way to improve urban economies. Congestion is a major factor in the logistics industry's real estate decisions and a huge cost driver. New York City's average last-mile speed, for example, is just 11 mph, leading to 140 hours lost per driver per year. Clogged streets abound in American cities, including Boston and Chicago, which rank ninth and 10th respectively in global congestion ratings.
Infrastructure upgrades, technology investments
Some cities have already made commitments to improve infrastructure. A few years ago, New York pledged to invest $100 million in water and rail solutions. But trucks, which haul more than 70% of domestic cargo shipments, will remain a critical part of urban supply chains.
Even before the pandemic, cities like New York were expected to see over-the-road freight volume grow 68% by 2045. So, road improvement projects are essential to reduce the time it takes to move goods just a few miles from ports to cities. City officials also should improve traffic flows with measures like limiting non-truck traffic in the wee hours to create speedy shipping windows.
The electric grid needs upgrades too to improve generation, transmission and charging capacity for a long list of current and near-future logistics and delivery technologies, from electric and autonomous vehicle fleets to door-to-door delivery robots and distribution center bots. Governments have a role too.
They can offer tax breaks, economic incentives and grants to help private industry expedite the creation of such technologies, partnering with academia to determine the most viable path forward. Not so long ago, ideas like drone deliveries attracted headlines.
But, from security concerns to crowded airspace, they're simply not a viable option for big cities. The fact is there is no magical solution to meet America's growing logistics demand in challenging settings like cities.
There are, however, step-by-step ways to help the logistics industry rise to the challenge of powering America's economy and facilitating domestic and global trade. Nearly a trillion dollars in annual U.S. commerce is at stake to meet new consumer needs and expectations for online shopping alone.
Ultimately, public-private partnerships, smarter regulation, zoning and traffic flow management, proper incentivization, infrastructure investments, a realignment of training priorities and continued industry innovation are needed for the United States to lead the world in logistics.